The 808 Singsation Main Stage SPKA800 is a device that is perfect for parties, outdoor events, or for whenever you want to sing. This home karaoke machine is an all-in-one system that delivers big sound with 4 speakers, 2 passive bass radiators, and a 40 Watt stereo amplifier.  The device also comes with two wired microphones and adjustable mic stand making duets easy.
The Main Stage SPKA800 also offers 25 light modes, 60 vocal effects, and 10 sound effects to make it feel more like a party atmosphere.  With all these features your family and friends should have endless hours of fun and entertainment.  There would be no need to go out to a club when you can bring the nightclub to your home.
Everything mentioned above such as speakers, lights, voice controls are housed in an enclosure called the party base system which rests on the floor.  You can control the lights and sounds from two FX foot pedals on the party base so you have hands free access or you can use the included wireless remote.  The smart device cradle at the top of the mic stand allows you to position device for easy reading when displaying the lyrics.
Click Here to View Current Price of the 808 Singsation Main Stage SPKA800
So what are the exact specs of this home karaoke machine system? Is the price worth it compared to other similar karaoke machines? What should you expect when you take the SPKA800 out of the box?
Read on for an in-depth review of the 808 Singsation Main Stage….
What comes in the Box
Party system base
Microphone stand
AC power adapter
Device cradle and locking knob
Two microphones
Velcro strips
Remote control
AAA battery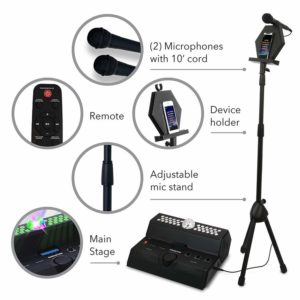 Features
Check out embedded video below to learn more about the Singsation Main Stage…..

Includes adjustable microphone stand with smartphone/tablet holder and 2 microphones
Bluetooth connectivity so you can connect your smartphone or tablet for thousands of free songs/karaoke videos from YouTube or favorite app or music service.
60 different voice effects including harmonize, high pitch, low pitch, chipmunk, rock star and many more whether you are singing or telling jokes.
10 sound effects such as air horn, cheers, DJ scratch, applause and more to add to your performances.
25 different light shows to choose from.
Speakers have 40-watt amplifier along with 4 stereo drivers and 2 passive bass radiators
Changing effects on your 808 Singsation Main Stage is as easy as a push of a button.   Turn the power on and off, change the light colors/effects, sound effects and voice effects all from the wireless remote at a push of a button.
Specifications
Color:  Black
Inputs:  Aux Line-in
Speaker size: 40 watt speaker
Item number:  SPKA800

Power:  AC Power
Dimensions:  6.50″H x 17.00″W x 12.00″D
Weight:  12.40 lbs
What Consumers Say about the 808 Singsation Main Stage
The majority of consumers have rated the 808 Singsation Main Stage very positively.  Listed below are the most common things consumers consistently say they like the most about this home karaoke machine:
Consumers state that all age groups have had a good time while using this home karaoke machine.  Not just kids but adults of all ages as well.
Another thing consumers state is that they feel a more lively experience when using the Singsation Main Stage.  A lot of them state when using it's like a night club like experience.
Consumers also state this device is very easy to pair with Bluetooth.  They also loved all the sound and voice effects, which usually led to hours of fun.
Sound is very good for the size of the device according to the majority of consumers
No matter what all products have some kind of issue.  Listed below are the most common problems and issues consumers have expressed they experience with this device:
The primary complaint about this karaoke machine is that the microphones could be of better quality.  Some consumers experienced better sound when upgrading the microphones.
Usual issues with most devices such as machines being delivered missing parts, broken items, and even some DOA product
Click Here to See Current Price and Reviews for the 808 Singsation Main Stage
PROS
Sound quality
Lots of sound and voice effects
Light show variety
2 microphones included
No need for any CD's or software
CONS
Price point could be high for some
Some Microphone quality complaints
Overall Impression of the 808 Singsation Main Stage
The 808 Singsation Main Stage SPKA800 is on the higher end of the price range for those wanting an all-in-one home karaoke machine.  It does have a lot of fun features such as voice and sound effects as well as light shows that can keep you and your family entertained for hours.  The SPKA800 does have good sound when using it also.  So if you are looking for a higher end home karaoke system with lots of features and sounds great the 808 Singsation Main Stage SPKA800 would be a great choice.
Who this device is not for in our opinion are those on a budget or don't use current technology much.  This device is on the higher price range for home karaoke systems and without prior experience using similar machines one could be overwhelmed.  The SPKA800 doesn't use CD's only Bluetooth and AUX connections so if you don't own a smart phone or tablet then this karaoke machine could be useless for singing along with music.  Don't get us wrong this karaoke machine is very easy to use and setup but this is usually a device people upgrade to.  If you are tech savy then you have nothing to worry about.
So in our humble opinion, the 808 Singsation Main Stage SPKA800 would make an amazing addition to someone's home. This home karaoke system can be used by all regardless of age.  Also it's one of the top all in one home karaoke machines on the market in it's price range.   There is not much you can't do with this device.  It will literally provide endless hours of fun for your family and friends all while enhancing the experience with all the features it has.
Sincerely Jiro and Emiko