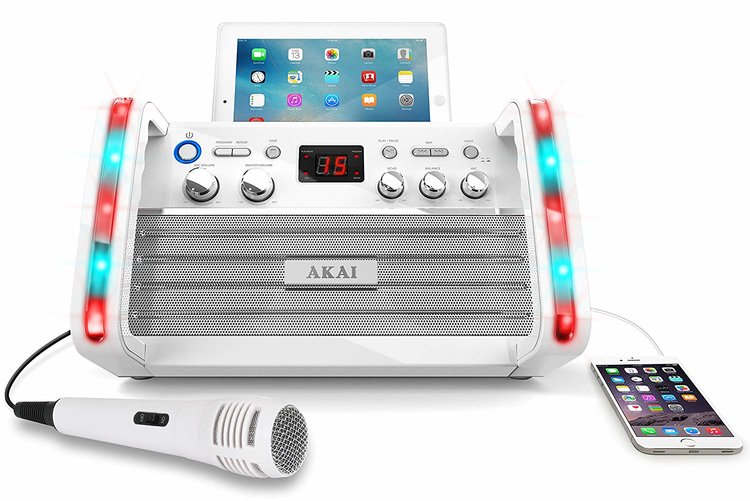 Akai is a well-known Japanese company which is known for manufacturing home electronics that are reliable. The company has been around for decades and since the 80's have been known to produce quality musical devices. Not only is the Akai KS213 reliable it's a good product at a decent price when compared to the competition in it's price range.
This home karaoke machine is very flexible when comes to compatibility.  You can play CD, CD + G, CDR, CDRW, Stereo connectivity, Aux input, etc. Just insert the CD or connect your smart device and play your favorite lyrics. You can even connect it to your big screen TV which makes it easier to read the lyrics off the big screen. The only thing that is missing from this karaoke machine is Bluetooth connectivity.
Maybe the best thing about this device is that its very easy to operate.   According to consumers even small children can operate it without much issue. You do not even have to read to operating manual to operate it, it's that easy. There is even a remote control provided for the system so you have full control over the machine even at a distance. Keep reading this article for even more insight if this is the karaoke machine for you.
Click Here to See Current Price of the Akai KS213
What comes in the Box
KS213 Karaoke System
iPad Cradle
Special iPad 3.5mm Line-in Cable
AV Cable
Prerecorded Karaoke CD+G Disc
Dynamic Microphone
AC Power Cord
Instruction Manual
Warranty Card
Check out embedded video below to see the Akai KS-213 unboxed and in use…..

Features
Ability to play Karaoke CD&G's or Music CD's in the Top Loading CD Player

Multi Color Lighting Effects


Cradle for your Android or Apple smart device

1 Wired Microphone included (can use additional microphone if purchased separately)


2 Way Power – AC Adapter Included or 8 x "C" Batteries(not included)

Echo: Control that enhances voice for concert hall effect.
Balance:  Ability to adjust the balance between prerecorded performers voice and the music when using a multiplex karaoke disc.
Auto Voice Control:  The vocals of the singer on the multiplex recording will be muted when the singer starts to sing through the microphone. When the singer stops to sing, the vocals will resume to normal.
Specifications
Color:  Comes in White or Black color
Inputs:  3.5 mm jack
RCA cable:  L/R Audio input/output, video input/out
Speaker size: 1 x 1W 8 ohms
Item number:  KS213W

Microphone:  -73 dB 600 OHMS Impedance with 6.3 mm Dynamic Microphone

Power:  AC 120V~60Hz
Dimensions:  11.1 x 12.5 x 7.8 inches
Weight:  4.4 lbs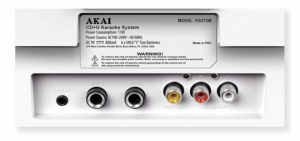 What Consumers Say about the Akai KS-213
The majority of consumers have rated the Akai KS213 very positively.  Read below for the most common things consumers consistently say they like the most about this home karaoke machine:
The most common thing about this device with consumers is that kids absolutely love it. From toddler to preteen seems to be the age mostly mentioned.
Consumers loved how easy this home karaoke machine is to use and operate.
Most consumers felt with all the controls, features that this device was a decent value in it's current price range
All products have some kind of issues.  Read below for the most common problems and issues consumers have expressed they experience with this device:
Most common compliant is the quality of the CD player.  Some consumers state the CD player came broken or broke within a few uses
Another common issue is some consumers had issues with feedback or hissing sound when plugging a smart device into the AUX port.
Some complaints about sound being low quality or very low sounding.
The usual product arrived damaged or DOA.
Click Here to see Current Price and Reviews of the Akai KS213
PROS
Very easy to use
Kids absolutely love this device
Small compact size
Can be used as an amplifier for mobile devices.
Ability to run on batteries (8 C batteries not included)
Price range
CONS
No Bluetooth
No HDMI
Sound quality
Overall Impression of the Akai KS-213
In our humble opinion the Akai KS213 is not the most advanced karaoke machine in it's class.  This makes it a great karaoke machine choice for karaoke beginners or children.  This is one of the best karaoke machines on the market at this price range so if this is for children or to test the waters with karaoke then do not hesitate before buying this.
The Akai KS-213 is simple to use and comes with most of the basic features karaoke machines have at this price range.  With it's small lightweight and portable profile it may not be the best choice for adults who want a more powerful crisp sound.  However, you could achieve better sound by connecting a more powerful speaker to it.  But obviously that's an additional cost, therefore if you are on a budget you might not even consider this route.
So in conclusion, if this device is for small to teen children or just a starter unit for someone wanting to try karaoke then I can recommend the Akai KS213 home karaoke machine.  I wouldn't suggest this device for a hardcore karaoke junkie or someone who wants good crisp sound above all else.  I would suggest something in a little higher price range if sound is the biggest factor.  Don't get me wrong for the price range it's in this device has average sound and will get the job done when compared to the competition.  Let's just say this home karaoke machine is a step up in quality and sound from the more child themed karaoke players on the market.
Sincerely Jiro and Emiko