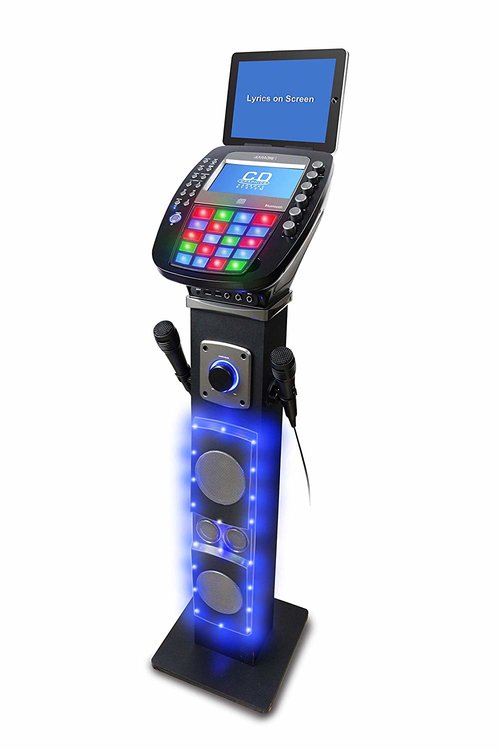 The Akai KS878-BT Pedestal Karaoke System is a fun looking device that could be all you need for a great night of family fun.  This device comes equipped with a large 7″ color screen to view the lyrics or if your prefer a larger screen it can also easily connect to your big screen TV with the supplied A/V cables. Also included are 2 wired microphones so singing duets is possible right out of the box.
With 640 Watts peak power this home karaoke machine provides powerful sound when playing back your favorite music.  Not many karaoke devices in this price range provide this kind of sound.  With 2 USB ports playback and recording makes it easy for you to share with your family and friends.,
Other key features this home karaoke machine comes equipped with are Bluetooth for easy pairing to your Bluetooth compatible device. Digital Key Control which allows the key of the music to be adjusted up or down by small increments (steps) without affecting the tempo of the song. Multi-Color Lighting Effects for ambiance and coolness factor. Best part of all is this device has no Assembly Required.  Just unpack from the box, plug it in and get the party started.
Click Here to see current Price of the Akai KS878-BT Pedestal Karaoke System
What comes in the Box
CD+G Pedestal Karaoke System
Tablet Cradle
AV Cable
Pre-recorded Karaoke CD+G Disc
Dynamic Microphone x 2pcs
AC-DC Power Adaptor
Instruction Manual
Warranty Card
Features
Top Loading CD & CD&G Player
Large 7″ Color Display
Digital Playback & Recording
Easy access USB Port
Bluetooth Enabled
Multi Color Lights
2 Wired Microphones Included
480 Watts Peak Power
Convenient cradle for your smart devices
No Assembly Required
Specifications
Output power: 40W RMS
Output impedance: Top speaker: 16 ohm   Base speaker: 6 ohm
CD OR CD+G player Frequency response:   100 Hz – 20 kHz
Signal-to-noise ratio: 50 dB
Number of programs:  20 STEPS RANDOM ACCESS PROGRAMMING
Microphone:  -73 dB 600 OHMS IMPEDANCE WITH Ø 6.3mm DYNAMIC MICROPHONE
Power:  Input 100-240V~50/60Hz 1.5A Output DC 15V 3A
Dimensions (W x H x D):  10.7 x 39.1 x 10.7 inches
Weight:  12.0 lbs
What Consumers Say about the Akai KS878-BT
The majority of consumers have rated the Akai KS878-BT karaoke machine very positively.  Read below for the things consumers consistently say they like the most about this home karaoke machine:
Sound quality from the speakers is very good.
Great family fun.  Primarily bought for wifes/girlfriends/children and it was loved by all groups
Very easy to use whether you use bluetooth or CD's to play music with
Consumers love all the many features this device offers
All products have issues.  Read below for the most common problems and issues consumers have experienced with this machine:
Issues with consumers receiving DOA product or damaged product.  Could be transport or warehouse issue rather than a quality issue.
Some consumers state that the quality of the microphones are a little poor.
When playing music this device sounds great but when singing along with the microphones the voice is hard to hear a little.  Might be an issue with quality of the microphones.
Click Here for Current Price and Reviews for the Akai KS878-BT
Pros
Good sound from speakers
Quality machine
Can be used right out of the box no assembly required
Lighting effects
Comes equipped with 2 microphones
Cons
Microphone quality could be better
Our Overall Impression of the Akai KS878-BT
Just by looking at the Akai KS878-BT, it look's like you and your family will have great fun with this home karaoke machine.  The design with the lights, speakers, and pedestal make it look like a device you would use at a karaoke bar.  This karaoke machine is not all looks though.  For the price range it's one of the better sounding karaoke machines on the market.  Keep in mind we are referring to the sound when playing music through the speakers and not the sound of your voice through the speakers.
Don't get us wrong the sound combination of music and singing isn't bad on this device but we feel it could be much better.  The quality sound of one's voice through the speakers could be due to the quality of the two microphones included with this karaoke machine.  To get better sound it might be better to purchase separate microphones to use.
So in our opinion the Akai KS878-BT Pedestal Karaoke System is a quality system.  With a microphone upgrade it could be the best sounding system in it's price range currently on the market.  Only thing is once you factor in the cost of the microphone upgrade you are now in the upper tier price range on home karaoke systems. Even without the microphone upgrade this device will provide the family with great entertainment and fun.  We feel for the price this karaoke machine without upgrades is a pretty good value.  What you must determine though is if you do want to upgrade the microphones is the value enough that you can justify not just going with a higher end system.
Sincerely Jiro and Emiko