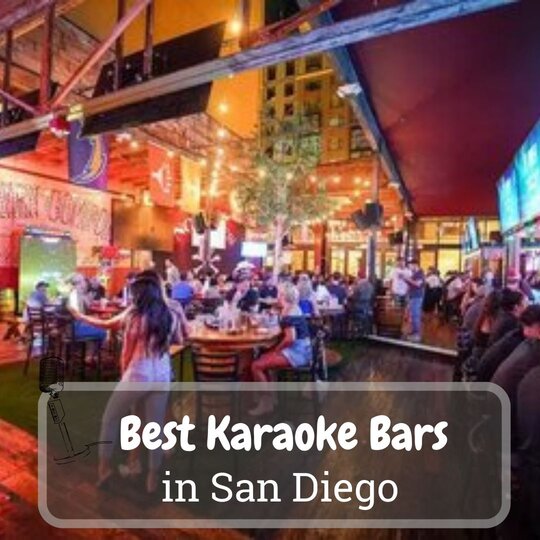 Introduction
Welcome to sunny San Diego, a city where the vivacious music scene seeps into every street corner. It paints a vibrant picture of relaxation and fun. If you're seeking an unforgettable night out, the local karaoke bars are an essential stop on your itinerary. San Diego is not just renowned for its picturesque beaches or world-class breweries; it's also a hub for entertainment and social gatherings at various bars and eateries. With so many options which are the best karaoke bars in San Diego?
Karaoke parties are no exception – they have become a popular pastime amongst both locals and tourists alike. With every passing night, these lively establishments echo with laughter, applause, and various renditions of chart-topping hits.
And luckily for you, this city harbors some truly unique spots that take this beloved activity to new levels. So make sure you warm up those vocal cords; it's time to explore the best karaoke bars in San Diego!
Karaoke in San Diego: A Popular Past time
The city of San Diego is widely celebrated for its stunning beaches and blissful weather. It holds a not-so-secret delight that is cherished by both residents and visitors alike – a vibrant karaoke scene. Karaoke is a fun-filled activity that was born in the lively bars of Japan. It has now found a comfortable home in the heart of San Diego.
It has become more than just an after-hours diversion; it's morphed into a popular pastime that stirs up the city's nightlife. Embarking on an adventure around San Diego's karaoke circuit is akin to discovering fascinating pockets of music and merriment tucked within the bustling metropolis.
From hip downtown lounges to serene beachfront bars. Karaoke has become synonymous with an evening well spent in this coastal paradise. But what makes karaoke so wildly popular?
You get up there on that stage because you want everyone at the bar to be part of your performance; you want them all dancing along or joining in for those chorus lines. Let's not dismiss karaoke as mere entertainment.
So next time you find yourself wandering around town after dusk looking for some unrivaled night-time entertainment. Head towards one such bar offering those magical evenings filled with song!
The Benefits of Karaoke
Boost Confidence
Few things in life provide the pure, unadulterated joy of belting out a favorite tune in the company of friends at a karaoke bar. San Diego's vibrant nightlife scene offers plenty of opportunities for this kind of entertainment. But beyond the fun and laughter, karaoke offers some less obvious benefits worth mentioning.
Karaoke is not merely a form of entertainment; it's an exercise in vulnerability and confidence-building. When you step up to that microphone, you set aside inhibitions and fears. You open yourself up to both potential applause and humorous critique.
It's about daring greatly, embracing the moment, and living fully. So whether you're crooning Sinatra or belting out Beyoncé, know that every note contributes to your growth as an individual.
Mood Booster
In addition to boosting self-confidence, karaoke can be a great stress reliever after a long day or week. There's something cathartic about pouring your heart into a song you love or one that speaks to your current mood.
As the music flows through you and out to an audience – be it one friend or an entire party – tensions melt away leaving only relaxation in its wake. Furthermore, karaoke creates tight-knit communities among like-minded individuals who love music as much as they love having fun.
It bridges gaps between generations with its vast selection of songs spanning decades. From classic rock anthems to today's chart-toppers – making it more than just a pastime but also a shared cultural experience.
Yet important is its ability to turn any night into an unforgettable party filled with laughter, cheers, and camaraderie. All these contribute significantly towards improving our overall well-being.
So next time you find yourself on a night out in San Diego wondering where all the fun is at; think no further! The answer can be found echoing through the vibrant bars lining Gaslamp Quarter streets and beyond.
The Best Karaoke Bars in San Diego
Ah, the heart of the matter – the Best Karaoke Bars in San Diego. Let's dive right in, shall we?
The Shout! House
Set your sights on The Shout! House, San Diego's infamous dueling piano bar has successfully blended karaoke and live entertainment into a raucous, unforgettable experience. The atmosphere is electric, often functioning as the heart of the city's nightlife.
Atmosphere
It's a place that invites guests to step up to the mic and showcase their inner superstar in front of an enthusiastic crowd. And here's the fun part; it doesn't matter if you can hit every note perfectly or not – at The Shout!
House, it's all about letting loose and having a great time. The moment you walk through its welcoming doors, you're met with an ambiance designed for relaxation and fun brimming with lively music that echoes throughout the bar.
This isn't your ordinary sing-song session. But rather an interactive musical soiree where pianists duel it out while performing audience-requested tunes. These tunes range from old classics to modern pop hits. One of the distinguishing features of this bar is its encouragement of audience participation; singing along isn't just tolerated – it's celebrated with gusto!
This is a crucial aspect that makes karaoke such a powerful confidence booster. Everyone has that one song they belt out in the shower or during long drives when nobody is around. At The Shout! House they provide an inviting stage for you to bring those performances into public view. In essence, this party hotspot in San Diego encapsulates what karaoke is truly about camaraderie through music.
When you're on stage under those bright lights belting out your favorite tunes. Everyone in the room becomes part of your performance. It's easy to get swept up by this collective energy. Whether you're singing or simply enjoying from afar as other brave souls take their turn at entertaining.
So remember when seeking out quality karaoke bars in San Diego: head to The Shout! House for unabashed fun-drenched entertainment. Where your confidence will bloom like radiant California poppies under San Diego's golden sun. While relaxation takes on a new melody amidst laughter and cheers.
The Can Can Speakeasy
Nestled in the heart of San Diego's bustling nightlife scene, you'll find an oasis of music, fun, and relaxation; a place where party-goers can unleash their inner divas and crooners, all while experiencing the charm of yesteryears. The place I'm referring to is none other than The Can Can Speakeasy.
This isn't your typical karaoke bar. In fact, stepping through its doors is like stepping back in time.
Atmosphere
With an ambiance reminiscent of the prohibition era, this vintage-inspired establishment offers a unique karaoke experience that's hard to match elsewhere in San Diego. From its sultry lighting to its tastefully curated selection of antiquated decor, every detail has been designed with one aim. To immerse patrons in an utterly distinctive and entertaining environment.
But what truly sets The Can Can Speakeasy apart is its approach toward karaoke. Here, singing isn't merely seen as entertainment or a party trick; it's celebrated as an act that cultivates confidence.
So for all those who've always wanted to try their hand at singing but have been held back by inhibitions. There simply couldn't be a more supportive platform for your debut performance! The track list encompasses everything from contemporary hits to timeless classics ensuring that everyone will find something that strikes their musical chord.
The stage is set for you to step up, grab the mic and belt out your favorite tune at full throttle! Whether you're looking for a memorable night out with friends or simply seeking solace from the daily grind with some soulful music and much-needed relaxation. The Can Can Speakeasy hits all the right notes!
Karaoke Box
Nestled in the heart of San Diego. The Karaoke Box is an absolute gem for anyone who wants to let loose and belt out their favorite tunes. This place caters to all things karaoke and comes alive at night with the sweet sound of music from every genre you can think of. One step into the Karaoke Box and you are welcomed into an atmosphere that is as vibrant as it is inviting.
Atmosphere
The ambiance exudes fun and relaxation, making it a perfect spot for any party or get-together. The walls echo with laughter and song, as patrons take turns crooning to their favorite tracks.
And trust me when I say, there's nothing quite like hearing your own voice reverberating through a room full of fellow music lovers. Unlike many other bars in San Diego, Karaoke Box offers private rooms so that you can have more intimate singing sessions with your group.
This unique feature not only allows for a more personalized experience but also encourages individuals who might be shy or hesitant to try their hand at karaoke in front of larger crowds. It's all about building confidence while having fun here!
The great thing about this bar is that it curates a safe space dedicated solely to entertainment. Where anyone can be a star for a night! The staff are friendly, helpful and go out of their way to make sure everyone has an unforgettable karaoke experience.
Whether you're a seasoned pro or stepping up on stage for the first time, Karaoke Box ensures each patron leaves feeling like they've had one hell of an enjoyable night out in San Diego. So grab your friends, pick your soundtrack, and immerse yourself in the unparalleled world of music this charming bar has to offer!
The Republic
Positioned in the heart of San Diego's Gaslamp Quarter, The Republic is a karaoke bar that knows how to work its charm. From the moment you step inside, there's an undeniable lure to the pulsating music that fills your senses and compels your feet to tap along.
The Republic has a dark yet cozy interior. The interior is bathed in a warm, inviting light that hits just right for both relaxation and fun.
Atmosphere
A haven for karaoke enthusiasts, both seasoned and beginners alike, The Republic provides an environment where anyone can bask in the joy of music. It's a place where people can loosen their inhibitions and belt out their favorite tunes without judgment.
The crowd's energy is contagious as they cheer on every singer that takes the stage. But it's not just about singing at The Republic; it's about connection through music and shared experiences.
Whether you're there for a birthday party or simply to unwind after a long week, every visit feels like an intimate gathering with friends who share your love of karaoke. The drink menu adds another layer of enjoyment to your karaoke experience at this San Diego hotspot.
To keep you refreshed throughout your singing adventures, The Republic boasts an array of colorful cocktails that are as flavorful as they are visually appealing. So if you're looking for a place that combines confidence-building entertainment with relaxation (and perhaps even some liquid courage), look no further than The Republic. Where every night feels like one big party centered around everyone's shared love for music and more importantly—karaoke!
OB Sports Bar
Tucked away in the heart of Ocean Beach, you'll discover a karaoke gem loved by locals and tourists alike – OB Sports Bar. This place offers the ultimate karaoke experience in San Diego, combining sports bar charm with a lively party atmosphere.
Catch the big game on numerous TV screens before taking to the stage yourself for an unforgettable performance. OB Sports Bar is known for its highly inclusive and welcoming environment.
Atmosphere
First-time singers and seasoned karaoke veterans alike find it to be a haven where they can let loose, build confidence, and share their love for music. There's no doubt that this venue lives up to its promise of providing top-tier entertainment.
The fun here starts when you receive your microphone as if it's your baton to run this relay of relaxation and merriment. The staff is warm-hearted and attentive. This creates an ambiance that encourages guests to sing their hearts out without any inhibitions.
The quality sound system ensures that everyone sounds their best while performing. And let's not forget about their extensive song list!
Whether you're into classic rock anthems, modern pop hits, or old-school country tunes, there's something for everyone at OB Sports Bar. The adrenaline rush of performing your favorite songs in front of a cheering crowd is incomparable, making every night feel like its own special party.
In terms of libations – worry not! They also have a full bar stocked with craft beers on tap and an assortment of cocktails sure to give courage to even the most timid performers.
It's not just about singing at OB Sports Bar; it's about creating an atmosphere where everyone has fun together. So next time you're looking for entertainment in San Diego – whether it be rooting for your favorite team or belting out your go-to karaoke jam. Remember OB Sports Bar: this place truly hits all the right notes when it comes to great music, friendly vibes, and barrels of fun.
What to Expect at the Best Karaoke Bars in San Diego
For those uninitiated in the exhilarating world of karaoke, you might be wondering what to expect at a karaoke bar. To paint the picture for you, imagine walking into an ambiance pulsating with music and laughter, the air electric with anticipation and excitement. As you take in the scene, you'll see groups huddled together. Some nervously perusing song lists while others confidently practice their chords.
These bars are different from your average San Diego watering holes. They are a haven for those seeking an evening of unabashed fun and entertainment.
The atmosphere is more party-like, with attendees eager to grab the microphone and belt out their favorite tunes. It's not uncommon to witness impromptu duets or even group performances!
The stage is often open to anyone willing to sing their heart out, no matter their skill level. This isn't "American Idol", after all! And that's one of the many charms of a karaoke bar. They give people a chance to step outside of their comfort zones and seize the spotlight with confidence.
The music selection at these venues can be incredibly diverse; from golden oldies to recent chart-toppers, there's something for everyone. Whether you're looking to croon Sinatra or rock out like Aerosmith. Chances are high that you'll find your chosen anthem in their extensive catalogs.
And let's not forget about relaxation! Karaoke bars in San Diego aren't just about music; they're also fantastic places for unwinding after a long day or week.
Picture yourself sipping on your favorite drink as you cheer on fellow patrons giving it all on stage – it's therapeutic! In essence, a night spent at one of San Diego's top-tier karaoke bars is much more than just singing. It's an unforgettable experience filled with camaraderie, exhilaration, and sheer enjoyment.
Unique Features of Karaoke Bars in San Diego
As we delve into the unique features of San Diego's karaoke bars. It becomes evident that these establishments offer more than just an opportunity to belt out your favorite songs. They are essentially a microcosm of the city's vibrant entertainment scene. And they serve to provide relaxation after a long, hectic week.
For example, The Shout! House is well-known for its dueling piano shows that provide a fantastic musical backdrop to your karaoke party fun.
Singers here often feel like they're performing in a live concert, elevating their confidence and overall experience. Karaoke Box, on the other hand, offers private rooms which are perfect for those who prefer an intimate setting where they can sing their hearts out without feeling self-conscious.
The Can Can Speakeasy takes you back in time with its 1920s-themed environment. While OB Sports Bar combines the thrill of sports with karaoke excitement. Indeed, each bar has its own appeal that goes beyond just music. They tell stories about San Diego's rich cultural diversity and affinity for enjoyment.
But what truly sets these places apart is how they embed the spirit of fun and camaraderie into their ambiance. It's not uncommon to find complete strangers cheering for you as you step onstage or people spontaneously forming groups to sing popular anthems together.
In this sense, such karaoke bars embody much more than just venues for singing; they become platforms that foster community bonding over a shared love for music. San Diego's karaoke bars have successfully turned a simple recreational activity into an immersive experience full of joyous participation and unexpected friendships. It's no surprise considering how perfectly this fits into the city's ethos itself.
Final Thoughts on the Best Karaoke Bars in San Diego
In wrapping up our melodious journey, it's clear to see that San Diego is truly a haven for karaoke enthusiasts. These top-notch venues provide not only fun and entertainment but also a platform for individuals to boost their confidence as they sing their hearts out. Karaoke is an activity of relaxation. It's the camaraderie amongst strangers and friends alike that takes center stage in these establishments.
You don't have to wait for a special occasion to embrace the party atmosphere these karaoke bars offer; any day of the week can turn into a night of musical fun. So next time you find yourself yearning for some excitement in San Diego. Remember there's always a karaoke bar waiting with open doors, eager for you to grab the microphone and light up the room with your voice!
---
If you like this information on the Best Karaoke Bars in San Diego just save THIS PIN to your Karaoke Bars Pinterest board and check out the info later.
Check out these other Karaoke Bar related posts: