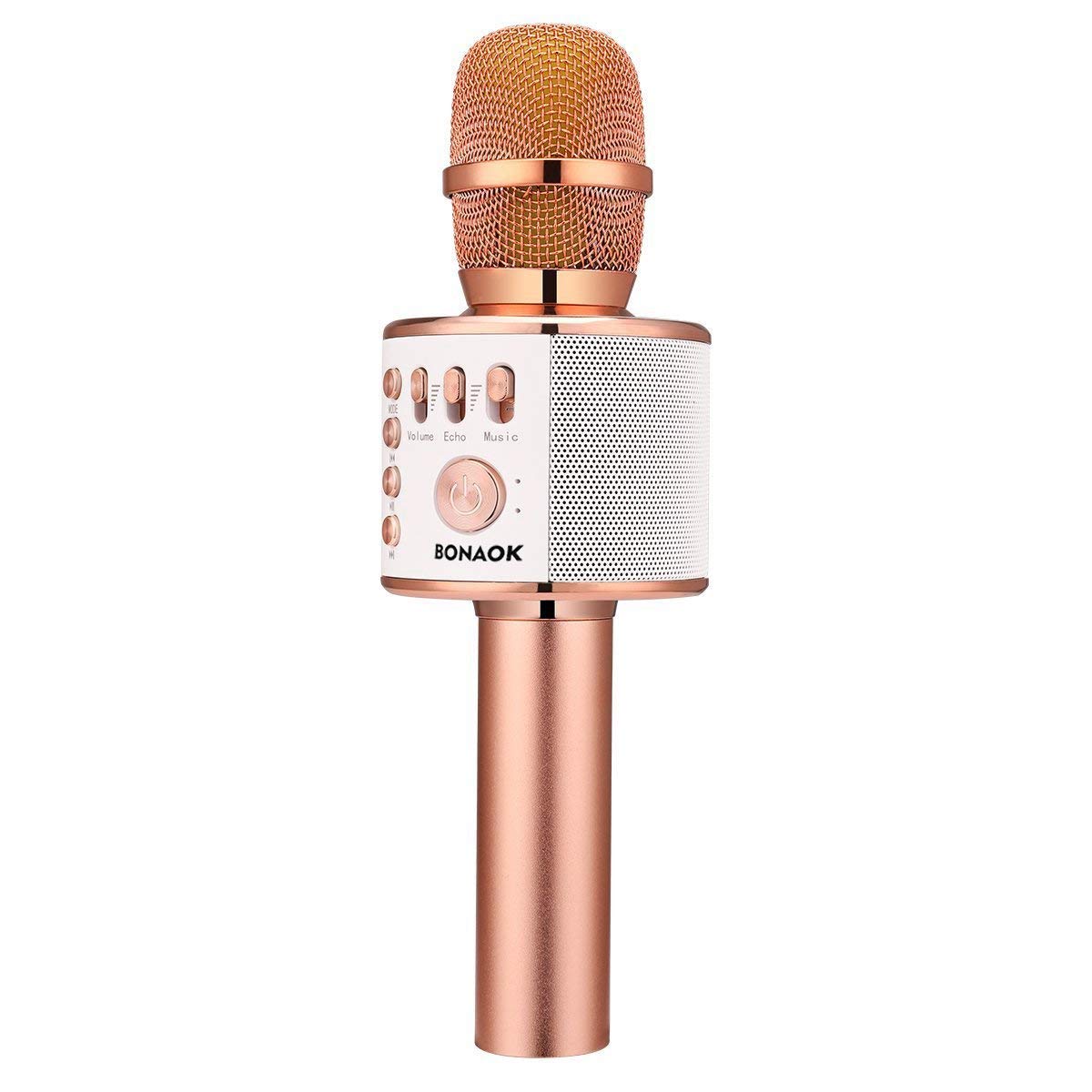 The Bonaok Karaoke Microphone is simple but elegant device that will easily allow you or your family to sing along with your favorite tunes.  This device easily connects via bluetooth to most popular Karaoke apps such as Smule, Yokee, and StarMaker.  You can also connect to any device with AUX connection to give you even more ways of playing music.
Singing is one of the best ways of expressing strong emotions available to humanity. One can get a great deal of pleasure and release of stress in harmonizing with some of the greatest music and artists of all time. Today using Bluetooth karaoke is one of the easiest ways to do this. With this device you can now easily participate in something that you could only passively consume before. This is a liberating device that can make you more relaxed, expressive, and alive off-mic, too.
Click Here for Current Price of the Bonaok Karaoke Microphone
What comes in the Box
 BONAOK Karaoke Microphone
 Colorful Hard Box
 Black Case
 Micro USB Cable
 Audio Cable
 Instruction Manual
Features
To see the Bonaok Karaoke Microphone in action and see the features first hand check out the embedded video below….
High Quality Noise Reduction
The ​BONAOK Karaoke Microphone has three layers of filter head therefore it can greatly reduce noise when singing.  Also uses denoising technology that allows you to sing with clarity because it filters air flow and wind noise.
High Quality Sound
The microphone speaker is designed for quality and sound.  With the Update Bass Diaphragm Cavity sound quality is improved by around 30%.  It also gives you stronger shock and heavier sense which makes you feel like you are singing in a karaoke bar.
Two way connection
You can connect your phone, tablet, smart device either by Bluetooth or Cable connection.  Then you can open the singing APP on your phone, tablet or smart device and enjoy listening and singing anywhere.
Professional Mixer
This Feature allows you to choose or switch between any mode you want to enhance your performance.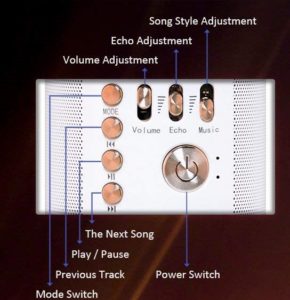 Specifications
Multiple Colors include: Rose Gold (pictured), Black, Blue, Purple, Red, Silver, Rose Gold Plus (Prices do vary by color)


Material: Aluminium Alloy 

Weight: 12.87oz

Output Power: 6W (Speaker Output) 

Charging Voltage: DC 5V 

Charging Time: 2 hours 

Sing Time: 5-10 hours 

Battery Capacity: 2200/2600mAh 

Products Size: 9.45×2.95×2.36in 

Speaker Frequency: 100Hz-10KHz 

Transmission Distance: 32.8ft

Power Supply: Build-in Li-ion battery 

Maximum sound pressure level: >115db 1KHz THD<1% 

Reverb Mode: Echo sound reverberation 
What Consumers Say
The majority of consumers have rated the Bonaok Karaoke Microphone very positively.  Read below for the things consumers consistently say they love about this Karaoke Microphone:
 Consumers rave about the looks, colors, and feel of this karaoke microphone.
 Kid friendly and they love using and performing with it
 Very easy to use and connect with Bluetooth
 Great fun with small groups and gatherings
 Feel it's a good value considering the options this device has available
 Customer service is very good and helpful whether having quality issues or technical issues when using this device
As there are no perfect products there are some things consumers complained about or had issues with.  Read below for the most common complaints and issues consumers had with the Bonaok Karaoke Microphone.
 The most common issue we came across was the quality of the charging connection.  Seems some consumers had problems with the connection breaking after only a few uses
Another common complaint is that it seems some batches of this device have a cigarette smell upon opening the box.  Support said it could moisture from the packaging and that the manufacturer has changed the packaging and issue should go away.
Some consumers also stated that when playing music via Bluetooth and singing at the same time the volume of your voice could be hard to hear
Click Here For Current Price and Current Reviews of the Bonaok Karaoke Microphone
PROS
 Comes in a wide variety of colors
 Stylish build
 Can use as a Bluetooth speaker and microphone
 Easy to use with Karaoke APP's
CONS
 Volume of voice is a little low
 Quality of charging connection on some units
 Cigarette smell on some units
Summary
The Bonaok Karaoke Microphone is a device that most certainly catches your eye with it's flashy appearance.  It comes in a wide variety of colors that do vary in cost for some reason.  The Rose Gold microphone that we have pictured on this site seems to be the most popular choice among consumers since it may match consumers iphones and smart devices.
As for the quality of the device most people have little issues with this device.  The biggest issue we have seen is that some consumers say their charging connection or port breaks quite easily or stops working.  Another common complaint is that some devices when opened have a cigarette like smell.  According to Bonaok customer service this issue should be resolved now by them changing the packaging.  But you could always get an older one with this same issue.  A positive is Bonaok support is very good at trying to make it's customers happy so if you do happen to have an issue with this device contact them right away and they will try to help you.
Our Overall Impression
We can confidently recommend this product.  With it's many features, flashy design, ease of use it would make a great gift or addition to ones household.  Great fun could be had by all and on the plus side not much room is needed to store this device.
Some suggestions we offer is that we like to use another source for the music such as our home entertainment system and use the micophone for singing purposes.  Seems to work much better for us that way as sometimes ones voice is lowered when playing music and singing into the microphone at the same time.  If you plan on just using the device for both playing the music and singing then it's best utilized in small groups since sound volume could be an issue.
We feel the Bonaok Karaoke Microphone would make a great Christmas or birthday gift and kids love it. Best of all the price point won't break the bank and you could be the hero.
Click Here for Current Price of the Bonaok Karaoke Microphone
Sincerely Jiro and Emiko