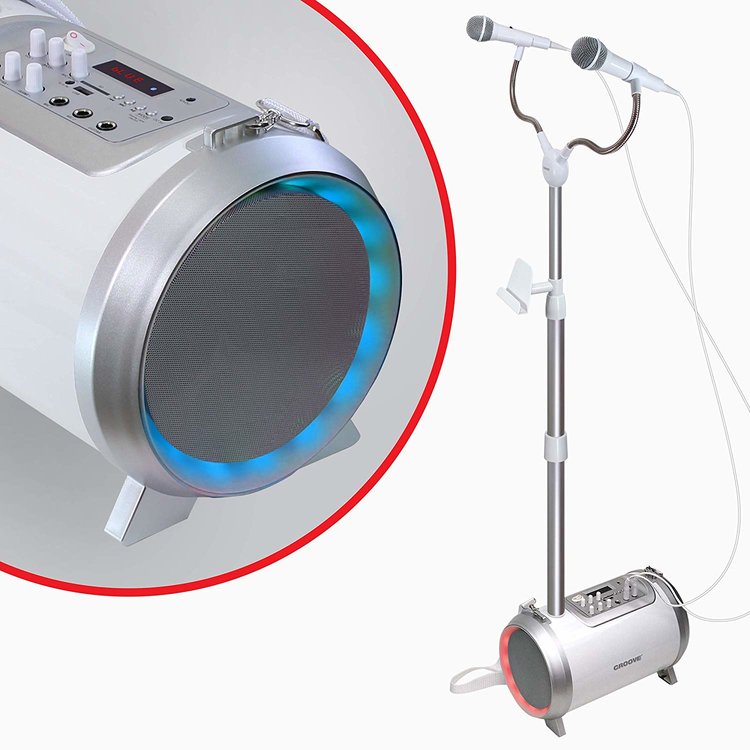 If music is your soul then you might have a new favorite toy in the Croove Karaoke machine.  You can connect musical instruments such as a guitar to this device all while practicing your singing.  There aren't many things that are more fun then performing with you family and friends to music that you all enjoy.
The Croove Karaoke machine is perfect for all ages.  With an adjustable stand and flashing lights it can be adjusted for and entertain anyone from a toddler to an adult.  Even picky teenagers love this device for it's clean simple design and ways to connect to their music source of choice.
With this device you can play music from almost any device.  It has an AUX, USB, SD card, and Bluetooth connection options to make things easier for you.  You can even adjust the volume on each microphone or device to suit your sound preference. This way you can choose the sound balance that fits you.  Also all the controls are easy to use and understand for almost all ages.
While many will think of this is a fun toy for the kids, We think it is that and much more. Some toys have no age limits, and this is definitely a toy with no age limit.  To learn more about the Croove Party Karaoke Machine continue reading our review. Or if you are ready to purchase your own, visit the link below!
Click Here to View Current Price of the Croove Karaoke Machine
What comes in the Box
Everything that is included to help you get performances rocking!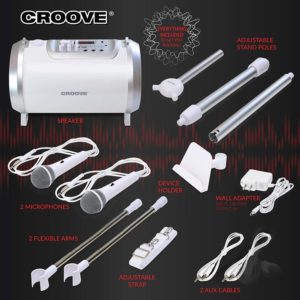 Speaker
2 Microphones
Adjustable stand poles
2 flexible arms
Device holder
Power wall adapter
2 Aux cables
Adjustable strap
Features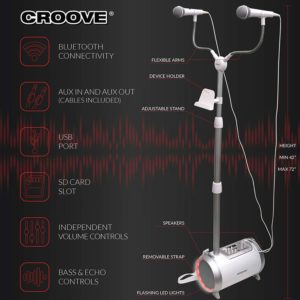 EASY MUSIC CONNECTIVITY: With multiple ways to connect to get your music such as AUX, USB, SD Card, and bluetooth this device offers you easy music connectivity.
ADJUSTABLE STAND: The stand can be setup high or low so anyone from a toddler or adult can use this home karaoke machine.
INDEPENDENT VOLUME CONTROL:  Provides the ability to adjust the volumes separately for mic 1 or mic 2.   Or even adjust the volume for the music and guitar to customize the sound settings to your own preferences.
LED VISUAL EFFECTS:  Surrounding the Croove speaker are multi-colored flashing lights. These lights respond to the beat and can add entertainment value to any performance.
PORTABLE DESIGN:  With it's compact design and detachable carrying strap the Croove is very easy to move place to place.
RECHARGEABLE BATTERY:  Equipped with a rechargeable battery that can provide up to 3 hours of juice on a single charge.
Check out embedded video below to learn more about the Croove Karaoke Machine and to see it in action….

Specifications
Color:  White with silver tones
Inputs:  Aux Line-in, USB, SD card slot, Bluetooth connection.
Battery Type:  Lithium
Speaker size: 12 watt speaker
Item number:  4350950255
Power:  AC Power
Dimensions:  Height Min= 42in  Max=72 in
Weight:  10.50 lbs
What Consumers Say about the Croove Karaoke Machine
The majority of consumers have rated the Croove Karaoke Machine very well.  Listed below are the most common positive things consumers consistently say about this home karaoke machine:
The most consistent thing consumers state about this device is that it's great fun for the whole family.  Almost all kids will love any karaoke machine but even teenagers and adults seem to have a great time using this machine.
A lot of consumers also enjoy the sound that comes from the speaker especially for the size it is.
Another common thing consumers loved were the many options available with this device.  Such as the many ways you can connect to your music along with features like LED lights and volume control.  They just felt good value for the cost.
Listed below are the most common problems and issues consumers have expressed they experience with this device:
Probably the most common complaint we saw was that some consumers had quality issues with the input ports.  Some broke after limited use and some came broken in the box
Another common complaint was the quality of the microphones that came with the device.  Some consumers said the microphones didn't project your voice loud enough over the speaker.
The usual complaints on devices arriving either damaged or DOA.

Click Here to see Current Price and Consumer Reviews of the Croove Karaoke Machine
PROS
LED lighted effects
Size and design makes unit very portable
Easy to put together and operate
Good sound from speaker
CONS
Microphones are not best quality
Some quality problems with the input slots
Overall Impression of the Croove Karaoke Machine
We suggest you should checkout the Croove Karaoke Machine if you are currently looking for an all-in-one device for the family.  With the many ways you can connect your music, to the small portable design and footprint, to the LED lights you have plenty of options with this device.  Read on for some more detailed final thoughts.
Is this device Fun to use?
Who doesn't love singing out loud to their favorite songs or even playing guitar along with your favorite songs.  This karaoke machine would be a terrific addition to any party and will have your friends and family entertained for countless hours!   The Croove with it's easy to operate features  allows your music to play via Bluetooth, SD card, or flash drive. There's even a guitar jack for the budding Jimi Hendrix from your inner circle! The flashing LED lights accentuate all performances and adds to the fun.
Who is this device designed For
This home karaoke machine is designed for ages 8 and up.  Even some toddlers will be able to use this machine but the recommended age is 8 and older. Even older age groups seem to have a good time with this device. The features of this system make it easy for all age groups to set up and get started. It's also easy enough to put away or bring out when the mood strikes. This compact karaoke station is the perfect ice breaker and doesn't take up too much storage space.
What To Be Aware Of
While designed for ages 8 and up, good luck getting the microphone away from anyone once the individual gets going. There is also a guitar jack for added instrumentation.  As well as independent volume controls for mics, tracks, and guitar jack. It also features a rechargeable battery and instructions for fast and easy set up.