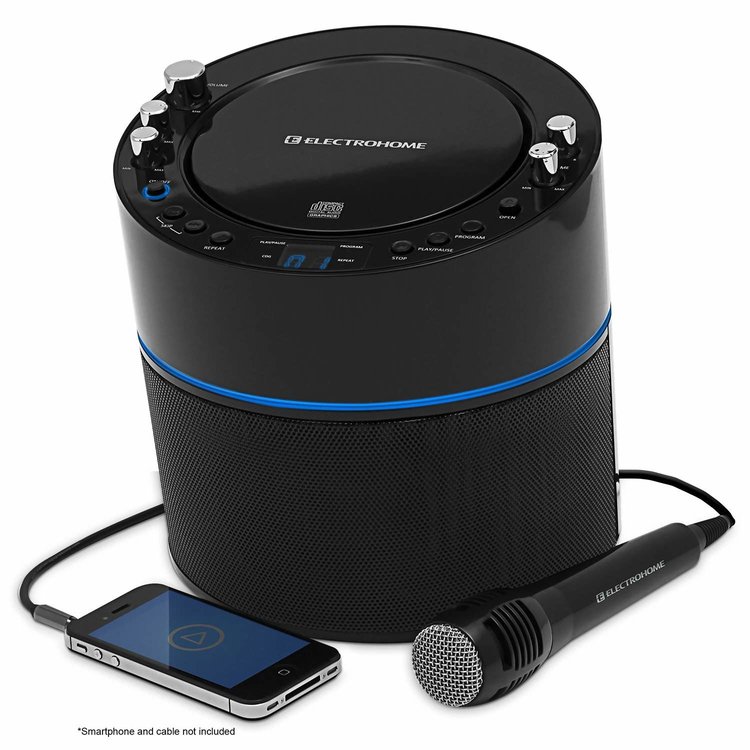 Next up we review the Electrohome EAKAR300.  This is a very popular home karaoke machine and you may have seen it in many places.  It's very noticeable because of it's electrifying blue party light and stylish looks.  The reason for the Electrohome EAKAR300 popularity primarily comes from it's affordable price. For what you get in a home karaoke system many consider this a pretty good value.
Some of the features the EAKAR300 has is the ability to connect to a large tv so you can display the lyrics on the big screen.  Another feature this machine has is the ability to connect a smartphone, tablet, or laptop through the 3.5mm aux input that could put literally 100's of high quality karaoke songs at your disposal.
Probably the most power features of this karaoke machine system are the Digital Echo Control and Auto Voice Control.  The Digital Echo Control can make  your voice sound richer, more confident, and more in tune.  With the Auto Voice Control it can act like your own personal backup singer if you forget the words or lyrics.
With the size and portability of this machine you can use it at home or take it with you to your friends and neighbors' homes. The possibilities are literally endless.  Keep reading our review of the Electrohome EAKAR300 to learn more about it and to see if it's the right fit for you.
Click Here to View Current Price of the Electrohome EAKAR300
What comes in the Box
Karaoke CD+G Player Speaker System
Dynamic Microphone (10ft cord, ¼ inch plug)
CD+G Multiplex Karaoke Disc with Music from Various Artists
RCA Audio/Video Composite Connection Cable
Instruction Manual
1 Year Warranty
Lifetime Customer Support
Features
Watch the embedded video below to learn more about the Electrohome EAKAR300….

Built-in high quality speaker that plays CD, CD+G,, and MP3 music formats
Sleek Blue party light
Connect via RCA cables to any TV with RCA connections for a supersized view of your musical lyrics.
Use the 3.5mm aux input to play audio from your iPhone, iPad, Android phone or tablet, laptop etc.
Comes equipped with 2 microphone inputs for singing duets (second microphone is sold separately).
Voice enhancing effects such as Digital Echo Control which can make your voice sound confident and more professional.
Auto Voice Control which will help you learn the lyrics of your favorite tunes or help you if you forget the words.
Specifications
Color:  Black
Inputs:  2 x 6.3mm microphone, 1 x Aux
RCA cable:  L/R Audio input/output, video input/out
Speaker size:  1 x 3W 8Ohm
Power Consumption: 12w
Microphone:  10 ft length
Power:  AC 120V, 60Hz
Dimensions:  14"x10.6"x12.5"
Weight:  7.21 lbs
What Consumers Say about the Electrohome EAKAR300
The majority of consumers have rated the Electrohome EAKAR300 home karaoke machine positively and it one of the more popular karaoke machines.  Read below for the things consumers consistently say they like the most about this home karaoke machine:
Children from 5 years old  and up to teenagers and older seem to have had an enjoyable experience with this home karaoke machine.
Many other consumers highlighted the ease of use, portability of the system, and the sleek look of this device.
Majority of consumers felt this home karaoke machine was a good value at it's current price.
All products are bound to have issues.  Read below for the most common problems and issues consumers have experienced with this machine:
The main complaint from consumers is that the sound or volume is too low when singing
Another common issue consumers state is the quality of the CD player.  It either doesn't work out of the box or it stops working after a few uses.
Also this karaoke machine seems to have the usual DOA units or break after a few uses like most products reviewed have.
Click Here to View Current Price and Reviews of the Electrohome EAKAR300
Pros
Small compact size
Affordable
Sleek design
Kid friendly
Ease of use and setup
Cons
No HDMI
No Bluetooth
Low Sound Volume
Overall Impression
The Electrohome EAKAR300 is a very popular home karaoke machine.  With thousands of reviews across many retail sites one can deduce the reason for this popularity is primarily price and ease of use.
For the features you get with this device and it's stylish looks many consumers feel this is a good value and I would tend to agree with them.  Most karaoke products in this price range are either flimsy children versions that are pretty much toys or single microphones where you need a external speaker to hear properly.
We would recommend the Electrohome EAKAR300 for those who buying for kids around the age range of 4-15 years old.  This karaoke system is not overly loud so it's best used in small areas.  There are some complaints the system doesn't get very loud and this is the primary reason why I think this could be a perfect way to introduce karaoke to a child.  If you are looking for a karaoke machine for the whole family I would suggest getting a little higher end model such as the 808 Singsation Karoke Machine or the Singing Machine SML 385.
If have a small family or just want a good budget starter karaoke machine then this device can definitely meet your needs.  The price on this unit is good, the looks are stylish, and the sound for the price is decent.
Sincerely Jiro and Emiko