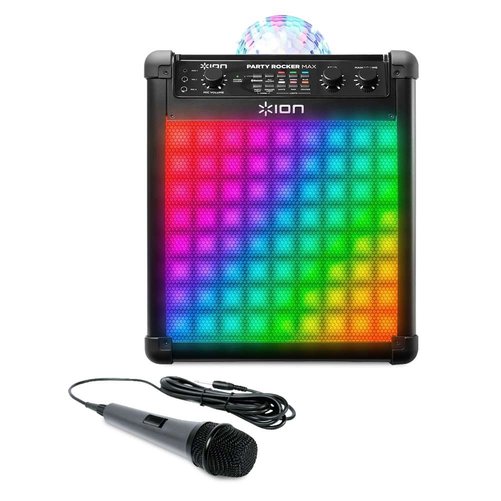 Get your next party started the right way with the Ion Audio MAIN-80512ION Party Rocker Max. This portable speaker delivers lights, sound and even karaoke in an all-in-one package.It even comes with a handle and wheels for easy mobility.
When it comes to audio, this speaker delivers a powerful 100 watts of power. Also comes equipped with a strong 8-inch woofer and wide-dispersion tweeter that delivers a vibrant deep sound.  Playing just music from this machine is definitely one of it's strong points.
Not only can you stream music wirelessly from any Bluetooth device, it also has ⅛-inch (3.5mm) aux input for non-Bluetooth devices so you can literally hook up almost any device to this all-in-one karaoke machine.
The light dome and lighted grille will electrify the area with six dazzling colors such as Red, Green, Blue, Magenta, Orange and White. The lights change pattern and pulsate in line with the music bringing the nightclub feeling to your home.
A built-in rechargeable battery conveniently provides hours of music and lights without worrying about having a power outlet.  The Party Rocker Max also has echo effects which can give your karaoke performances a big stage feel to them. With all that is included, this home karaoke machine is the ultimate all-in-one party machine.
Click here to view current price of the Ion Audio Main-80512
What comes in the Box
Party Rocker Plus

Microphone with 10 ft Cable

Power Cable

1/8″ (3.5mm) Audio Cable

Quick start Guide

Safety & Warranty Manual
https://www.youtube.com/watch?v=_bu-bsTAMS0
Features
 100 watts of dynamic power to energize your parties.
 Powerful 8" woofer and wide-dispersion tweeter deliver vibrant sound.
 Wireless Stream music from any Bluetooth device.
 Light dome fills the room with 6 colors: Red, Green, Blue, Magenta, Orange, White.
Dual Microphone input with Echo Effect for professional-sounding Karaoke
Built-in rechargeable battery provides hours of uninterrupted fun.
1/8-inch (3.5mm) aux input for non-Bluetooth devices.
Specifications
Output Power: 100 W (peak)
Drivers: 8″ / 203 mm woofer 3" / 76 mm tweeter
Bluetooth Profile: A2DP, AVRCP Range: Up to 100 feet / 30.5 meters
Frequency Response: 65 Hz – 20 kHz (+ 3 dB)
Microphone: Type Dynamic microphone recommended (included)
Battery: 12 V, 9.0 Ah SLA
Battery Life: ** Up to 75 hours (with music only) (when fully charged) Up to 6 hours (with lights and music)
Recharge Time: 10 hours
Power Input Voltage: 100–240 VAC, 50/60 Hz, 120 W
Dimensions: 11.0″ x 15.0″ x 17.25″
Weight: 24.6 lbs.
What Consumers Say about the Ion Audio MAIN-80512
Most consumers have rated the Ion Audio MAIN-80512 home karaoke machine very positively.  Listed below are the things consumers commonly say they like the most about this home karaoke machine:
Probably the feature that consumers loved the most about this home karaoke machine was the lighting effects.  Made them feel they were at a nightclub and just seemed to raise the energy level.
Consumers also loved the way the music sounded on this device.  The music played loud and could easily be heard at a distance.
People of all ages seem to love this home karaoke machine
Every product has it's issues.  Listed below are the most common problems and issues consumers have shared they have experienced when using this home karaoke machine:
 The most common issue we say with this device is that the bluetooth stops working after awhile
Another common issue consumers had was battery charging issues.  Either the battery wouldn't hold a charge or wouldn't charge at all when plugged into power source.
Microphone quality seemed to be another common issue consumers complained about.  Some complained the microphone either broke quick or that you could barely hear voice through the speaker when music is playing through it.

Click Here to View Current Price and Reviews of the ION Audio Main 80512
PROS
Good sound when playing just music from the box
Comes equipped with wheels and handle
Multi-Effect Party Lights
Easy mobility with handle and wheels
CONS
No way to adjust bass levels
Bluetooth issues with some consumers
Microphone quality (Microphone it comes with has low sound)
Overall Impression of the Ion Audio MAIN-80512
In our humble opinion the Ion Audio MAIN-80512 is a solid choice if you are looking for an all-in-one home karaoke machine.  It has a powerful 100 watt speaker with 8 inch woofer for amazing sound.  So the music you play from the radio, bluetooth connection, or aux connection will sound amazing through this speaker.
An added bonus is this home karaoke machine also has lighting effects that uses 6 different colors that will amp the energy level up at your next party.
To get the best performance out of your device we suggest you upgrade the microphones on this device and buy at least 2 microphones so you can perform duets as well.  The microphone that comes with this device is a little cheap and some consumers had problems with voice volume and quality of the microphone.
So in conclusion we recommend this karaoke machine for people that want to use for small gatherings of 40 people or less that aren't in wide open spaces.  If you are looking for a device for large outdoor events I would suggest looking into a more PA like system such as the Rockville RPG122k unit or something a little larger.
The positives outweigh the negatives and with the quality of sound that you receive for the price this machine is a decent value.  Just a word of caution this is not a professional sounding karaoke machine.  It's strong point is playing music loudly and clearly for a more party like atmosphere.
Sincerely Jiro and Emiko