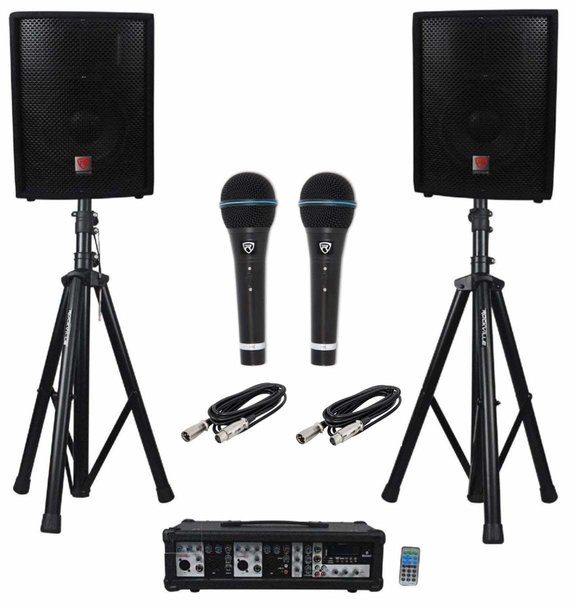 The Rockville RPG2X10 is an entire complete system.  This device includes two speakers, a powered mixer, two wired microphones, two adjustable stands, and all the cables you will need to make it work.
This system is versatile and loud enough for many uses. With 800 watts of peak power, 400 watts of program power, and 200 watts of RMS the RPG2X10 has excellent powerful sound. It can be used in many capacities such as PA System, DJ System, and even Karaoke DJ system.  Would make great options to use in environments such as bars, schools, churches, etc.
With the included four channel mixer you have total control of the sound.  The mixer allows control over your source and mic channels so you can get the precise sound you are looking for.  Mixer also has built in Bluetooth so you can play music from your phone,tablet, or laptop easily.  There is also a SD card and USB slots for even more music listening options.  The added effects on the mixer gives you even more customized options.  Mixer even has reverb and digital delay on each channel to enhance your musical experience.
Click here to View Current Price of the Rockville RPG2X10
What comes in the Box
2 Speakers
Powered mixer
2 wired microphones
All the cables needed to operate device
2 Speaker stands
Operating manual
Check out embedded video below to learn more about the Rockville RPG2X10 and see it in action ……

Features
Device:
Rockville RPG2X10 Package PA System With Mixer/Amp, 2 10″ Speakers, Stands, Dual Wired Microphones, and Bluetooth Connectivity
PA system with 4-channel powered mixer
Complete Portable Pro DJ System
Compact and light weight system delivers distortion free sound even at extreme SPL
Two collapsible speaker stands
Speakers: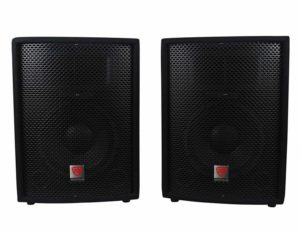 Two 4 Ohm high power long-throw 10″ woofers with 1.5 aluminum voice coils and 60oz magnets which provide incredibly deep bass and acoustic power
200 Watts RMS / 400 Watts Program Power / 800 Watts Peak
State-of-the-art 1.75 crystal piezo compression horn tweeter
Two way cabinet architecture
Horizontal / Vertical position stage monitor
Pole mountable
Frequency range: 65Hz – 20KHz
Sensitivity: 92dB
Maximum SPL: (110 Watts) 109dB
Transducer compliment: 10 woofer premium high frequency driver with an exponential horn
Impedance: 8 Ohm
Input connections: Two 1/4 jacks in parallel
Enclosure materials and finish: Trapezoidal, black carpet covered enclosure and a full length black
powder-coated steel grill
Dimensions (W x D x H): 15.35″ x 11.81″ x 20.28″
Mixer: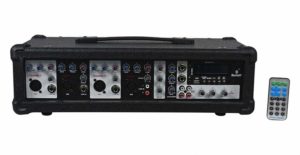 LCD Display
USB / SD Input
MP3 Playback
Built-In FM Radio Tuner
Bluetooth connectivity
200 Watts RMS / 400 Watts Program Power / 800 Watts Peak into 4 ohm (2 x 8 ohm) speakers
4 balanced XLR microphone inputs
Tape/CD Line inputs
10 total inputs
Master volume control
Bass, treble controls, and level controls on each channel
Reverb effect level control on each channel
Digital delay effect with independent level control
Line Out for connection to external amplifiers
Return input for connection of external effects processors
Record Out for taping
RF interference protection on all inputs
Aux Send Output: -10 dBv nominal, 1k ohms
Tape Rec Output: -10 dBv nominal, 1k ohms
Input lmpedance: Low-Z Mic: 1k ohms   High-Z Line: 10k ohms   Tape Input: 10k ohms
Input Channel Equalization: +/- 15 dB @ 5 kHz
3 Band equalizer: Bass: +/- 15 @ 60 Hz   Mid: +/-15 @ 1 kHz   Treble: +/- 15 @ 10 kHz
Protection Circuit: Power on Mute delay time: 2 seconds
Microphones: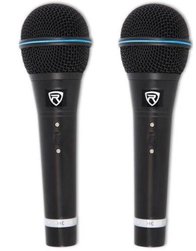 Rockville RMM-XLR Dynamic Microphone
Professional 10 FT XLR Cables Included
Steel Mesh Grill
On/Off Switch
Rugged Metal Construction
Natural Sound Reproduction
Beautiful Black Finish (The perfect combination of matte and shiny black finish)
Frequency Response: 50Hz-15kHz
Super Cardiod Polar Pattern
Impedance 600 Ohm ±5%
Sensitivity -60dB ± 3dB (0dB=1V/Pa at 1KHz)
What Consumers Say about the Rockville RPG2X10
The majority of consumers have rated the Rockville RPG2X10 positively.  Below are the most common things consumers stated they liked about this device:
Probably the most common compliment consumers give this system is that it sounds great and makes a great PA system in small to medium areas.
Consumers also felt for the versatility and price of this system that it is a very good value for what you get with this system.
Worked great for consumers who used it for PA system, DJ System, Parties, and Karaoke just to name a few.
Below is listed the most common problems and issues consumers have stated they experience with this device:
The most common issue we come across from consumers is the Microphone quality on the included mics.  Some people had feedback issues and some had low volume when using the microphones that came with the system.  Quality did improve considerably when the microphones were upgraded.
Another common issue we came across was there seemed to be some issues with product quality.  Some systems came damaged or DOA and had to be returned for exchange or refund.
Click Here to View Current Price and Consumer Reviews of the Rockville RPG2X10
PROS
Portable design
Great value for whats included
Easy to setup
Good powerful sound from speakers
CONS
Microphone quality
Microphone cords a little short
Possible QA issue as many people receive damaged product
Overall Impression of the Rockville RPG2X10
If you are looking for an expandable versatile complete music system that has a lot of power and great sound quality, then we recommend you check out the Rockville RPG2X10! 

The Speaker and sound that comes from the RPG2X10 is pretty good.  It can handle performances in small scale environments quite well.  This system is quite scalable as you can easily upgrade the microphones for an even better sounding system.
If you are looking for a good value Speaker system then this would make a great choice for those on a budget.  If you want a more powerful system consider upgrading to something like the Yamaha Stagepas 400BT.  Like we said before this is a great budget system and would make a good starting or beginning system.  If you are a seasoned pro you might consider something in the next tier of similar systems.
Sincerely Jiro and Emiko
.