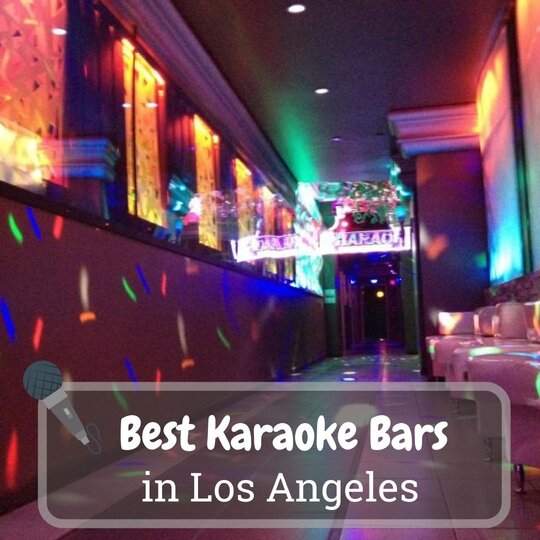 Introduction
Welcome to the dazzling city of Los Angeles. LA is an iconic metropolis known for its breathtaking landscapes, diverse culture, and lively nightlife. This city is a hub of entertainment, where you can find everything from Hollywood stars to exquisite food joints. But where are the best karaoke bars in Los Angeles?
When the sun goes down and the party lights flicker on, one particular brand of fun stands out amidst the glitz and glamour – Karaoke bars. Have you ever felt that sudden jolt of excitement when your favorite song comes on and you can't help but sing along?
That's exactly what karaoke nights are all about. They offer an exciting platform for everyone to drop their inhibitions, grab a microphone and live their rockstar dreams.
The blend of music with a casual bar setting makes it a relaxing experience after a tiring day at work or an exhilarating party spot over weekends. Karaoke is more than just entertainment; it's about building confidence too.
It's not about being pitch-perfect. Instead, it's all about having fun in the moment while belting out your favorite tunes with friends or even strangers who are soon-to-be-friends! Now let's dive into this musical journey as we explore some of the best Karaoke bars Los Angeles has to offer!
Karaoke in Los Angeles
Karaoke in LA is more than just a pastime—it's a beloved tradition deeply woven into the city's vibrant nightlife tapestry. Whether you're a seasoned veteran who can reel off every lyric to "Bohemian Rhapsody". Or if you've never held a microphone before, you'll find an open, enthusiastic audience in LA who will cheer for every note.
The city is truly a haven for those seeking both relaxation and entertainment. With its numerous karaoke bars that offer top-notch amenities and an impressive selection of songs. Now, picture this. There are only lights on the stage. It's your party after all – and you're standing there with the tune about to start while the crowd gets silent.
This might sound terrifying at first, but it's actually an adrenaline rush mixed with pure fun. Yes, sometimes karaoke is about stepping out of your comfort zone and gaining confidence as you sing your heart out on stage.
What sets the bar—and yes pun intended—so high in Los Angeles? It's the multitudes of state-of-the-art karaoke establishments which add their own unique spin to this music-centric activity. Each karaoke bar has something different to offer. Be it private rooms or open stages that let amateurs belt out tunes under laser lights.
But one thing remains consistent: they all provide an evening full of laughter, camaraderie, and good old-fashioned fun! So whether you're looking for a low-key relaxation spot where you can croon Frank Sinatra classics over cocktails. Or if you want to party hardy singing pop hits with friends at midnight. Los Angeles has got the perfect Karaoke setup waiting for you!
Benefits of Karaoke
Karaoke, for the uninitiated, can be a lot more than just belting out your favorite tunes in a crowded bar. It's an evening packed with countless benefits that extend beyond providing simple entertainment.
Brings People Together
First and foremost, karaoke is the perfect social mixer. It brings together people of varying musical tastes and skill levels in a party atmosphere where everyone shares a common interest – music.
It can turn any ordinary evening into an extraordinary one with just the right song choice. In Los Angeles, the city of angels and dreams, karaoke takes on an even greater significance.
With its roots in the city's vibrant music scene, karaoke has evolved into a cultural phenomenon that offers not just fun but relaxation too. Let's face it; there's something incredibly therapeutic about letting loose and singing your heart out after a long day at work.
Confidence Booster
Beyond this sense of liberation though, karaoke can also help build confidence. Whether you're pitch-perfect or couldn't hit the right note to save your life doesn't matter; when you step onto that stage or enclosed booth at your favorite Los Angeles bar, all eyes are on you.
This momentary spotlight thrusts you into an exhilarating scenario where you get to conquer your fears while expressing yourself freely. The joy of singing aside, karaoke is also known for its role as an ice-breaker. It's an equalizer among patrons at bars everywhere including Los Angeles. The city never ceases to amaze with its dynamism and diversity of entertainment options.
As soon as someone willingly grabs that microphone to sing their chosen song. Be it a top 40 hit or an obscure indie track. The room tends to let down its guard leading to conversations started and friendships formed. Whether for music enthusiasts wanting some fun at their local bar. Or anyone looking for relaxation after navigating through busy LA traffic. Karaoke is much more than meets the eye—it's therapy wrapped in laughter and shared experiences through song.
The Best Karaoke Bars in Los Angeles
From seasoned singers who love baring their souls through music. Or beginners seeking casual entertainment after work. Or even those just looking forward to relaxing while singing along with friends. The best karaoke bars in Los Angeles have got you covered!
Pop Music Studios
Tucked away in the heart of Los Angeles, Pop Music Studios is a karaoke lover's paradise. This spot isn't your average karaoke bar. It's an entertainment powerhouse. Where music, confidence, and fun converge to create a one-of-a-kind experience for both locals and tourists alike.
The first impression that hits you as you sashay through the doors of this Los Angeles hotspot is its trendy décor coupled with its warm and inviting ambiance. The vibe here is perfect for relaxation after a long day or for partying all night with friends.
Features
The atmosphere encourages even the most reluctant singers to grab a mic and bring their favorite songs to life. Now let's talk about song selection at Pop Music Studios.
Whether you're an old-school rock fan or someone whose heart beats faster at the rhythm of today's chart-topping hits. This karaoke bar has got your back! With an impressive library that spans multiple genres and eras, it's almost impossible not to find your jam.
One admirable trait of Pop Music Studios is their focus on delivering top-notch sound quality. They believe karaoke is not just about singing along to lyrics displayed on screens. But should also be an immersive musical journey that leaves you feeling like a pop star!
Service here deserves special mention. It matches up perfectly with everything else at this fun-filled sing-along destination. Professional yet personable staff who ensure every visitor has a memorable time from start to end. So whether it's belting out ballads solo or rocking out pop anthems with friends. There's always room for another unforgettable melody at Pop Music Studios.
Pang Pang Karaoke
Nestled in the heart of Koreatown, Pang Pang Karaoke is a gem for all karaoke lovers. It's the epitome of entertainment with its sleek, modern interior and neon lights that create a party-like atmosphere.
Features
What sets it apart from other karaoke bars is that each room comes with its own unique decor and vibe. Some mimic a cozy living room while others have disco balls for a more festive feel. When it comes to music options at Pang Pang Karaoke, diversity rules the stage.
The expansive song list caters to both English and Korean music lovers. It offers a mix of contemporary hits and timeless classics. So whether you want to belt out Adele's soulful numbers or sway to the tunes of BTS. This place has got you covered.
One major highlight of this Los Angeles bar is certainly the room service button. No need to leave your singing session for refueling. Just press the button and attentive staff members will come rushing in with your choice of food and drinks.
It simply takes the fun factor up a notch! Karaoke at Pang Pang isn't just about singing – it's also about boosting confidence.
Stepping up to sing in front of friends or even strangers can be quite intimidating. But once you get started here, you'll find yourself feeling more relaxed and self-assured than ever before. In essence, when it comes down to having a great night out full of laughter, fun tunes, delicious food & drinks or simply seeking relaxation after a long day at work. Look no further than Pang Pang Karaoke in Los Angeles!
Potions & Poisons
For those seeking a bewitching blend of fun and relaxation, look no further than Potions & Poisons. Nestled in the vibrant heart of Los Angeles, this unique karaoke bar is an enchanting destination for all. There's an air of magic that infuses every corner, from the well-stocked bar to the dazzlingly lit karaoke stage.
Its captivating atmosphere and excellent music selection make it a must-visit spot for any karaoke enthusiast. It's renowned for its extensive library of songs that spans various genres and eras. A testament to its commitment to providing top-tier entertainment.
Features
No matter your musical taste. You're bound to find a tune that will inspire you to step up on stage and sing your heart out. The bar itself offers a magnificent range of concoctions — the 'potions' part of its namesake is not taken lightly here.
Whether you favor classic cocktails or are eager to try their signature house specials, there's something for everyone. However, Potions & Poisons isn't just about unwinding with drinks and music after a long day.
It serves as an exceptional party venue too. Perfect for birthdays, bachelorette parties or simply celebrating life on any given day in Los Angeles! At Potions & Poisons, one also experiences a boost in confidence as they take the mic under the spotlight; and it's not just about how well you can carry a tune either!
This karaoke bar celebrates passion above perfection, encouraging everyone. From seasoned singers to first-time performers – to come up on stage and embrace their inner superstar. Potions & Poisons offer more than just your average night out in Los Angeles; it provides an unforgettable experience full of music-fueled fun and unparalleled entertainment.
Shrine
Stepping into Shrine is like walking into an exclusive party where everyone's on the A-list. This hipster hotspot is located in the heart of Los Angeles and offers an unparalleled karaoke experience. From the moment you cross the threshold. Your senses are treated to a vibrant atmosphere where music is the pulse and karaoke, the heartbeat.
Features
Be it an impromptu night out with friends or a meticulously planned corporate event. The Shrine caters to all with its expansive space. The large main room bustles with activity as groups gather around tables loaded with fun finger foods and colorful cocktails. Their laughter merges effortlessly with tracks from various genres playing over surround-sound speakers.
Now let's talk about their song list – it's essentially a musical encyclopedia that caters to every taste.
And if going solo isn't quite your style, there's always group karaoke where everyone can join in for those beloved chorus belters. But what sets Shrine apart is its commitment to ensuring each guest feels like they're getting their moment under the spotlight.
It's not just about being up on that stage and singing; it's about experiencing that sudden surge of confidence when you grab that microphone. It's about feeling every note resonate within you as you pour your soul into each word. It's about feeling like a superstar even if just for one song. The Shrine has got karaoke down to fine art. Music-themed decor, state-of-the-art sound system, private rooms for intimate gatherings, and most importantly – an ambiance of relaxed joyousness where anyone can be whoever they want to be through song.
In this city bursting at its seams with entertainment options everywhere you turn, Shrine stands out as more than just another Karaoke bar in Los Angeles. It promises – no delivers – pure unadulterated fun! So whether you're looking for some relaxation after work or planning an epic party weekend. The Shrine has got something for everyone!
Pharaoh Karaoke Lounge
Pharaoh Karaoke is a true embodiment of fun and entertainment in the heart of Los Angeles. The lounge offers a party atmosphere unlike any other. It gives all who venture inside a taste of Egypt with its themed decor.
From the moment you step through the door. You're transported to an ancient world, leaving the hustle and bustle of LA behind. The VIP rooms at Pharaoh are a real treat for anyone seeking some privateness to channel their inner pop star.
Features
With state-of-the-art karaoke systems and plush seating, it's perfect for both relaxation and belting out your favorite tunes. Staff members are always at hand, ensuring your song lists are updated and your drinks are filled.
When it comes to music variety, Pharaoh Karaoke Lounge does not disappoint. Their enormous song library caters to everyone's taste. Whether you want to sing classic rock hits or try out chart-topping K-Pop numbers.
It's all about losing yourself in the music here! One aspect that sets Pharaoh apart from other karaoke bars in Los Angeles is its interactive audience setup.
It acts as a confidence booster for many shy singers who initially find themselves reluctant to sing in front of others but soon find themselves embracing the spirit of karaoke fully. For those not inclined towards singing themselves but still seeking entertainment, there's no need to worry!
The bar area is separated from the singing sections so patrons can enjoy their drinks while listening to brave souls taking on Celine Dion or Aerosmith hits. The Shrine encapsulates everything one could want from an evening out in Los Angeles. Great music choices, comfortable surroundings for singing or simply enjoying others' performances, quality service, and most importantly – endless entertainment!
Palm Tree Karaoke
As we continue our musical adventure through Los Angeles, one name that invariably crops up when discussing the best karaoke joints in the city is Palm Tree Karaoke. A little off the beaten track, this gem favored by locals is famous for its affable atmosphere and reasonable rates.
Relaxation and comfort are key here at Palm Tree Karaoke. The lighting is dimmed, creating a cozy ambiance that encourages even the most apprehensive of singers to step up to the mic.
Features
It's a place where you can kick back and unwind after a long day while testing your vocal cords in an intimate setting. The bar at Palm Tree Karaoke is something to behold. It's stocked with an array of spirits intended to lubricate your throat and boost confidence pre-performance.
With exciting tropical cocktails alongside classics like beer or whiskey on offer, it's easy to find something that suits your taste buds. But what good is a karaoke bar without top-notch music?
Well, don't fret because Palm Tree Karaoke has you covered there too. Their song selection spans across genres and eras — from classic rock anthems to pop chart-toppers, they've got it all.
You'll be spoilt for choice when it comes time for your star turn. Puts emphasis on fun. But don't let that fool you into thinking they skimp on quality equipment or sound systems!
Nothing could be further from the truth; their acoustics are exceptional which maximizes singer's voices for optimum entertainment value. So next time you're planning a party or just want an excuse to sing your heart out in Los Angeles. Remember Palm Tree Karaoke. Where music meets fun in one of LA's best-loved karaoke bars.
Moxie Lounge & Karaoke
Situated in the heart of Los Angeles, Moxie Lounge & Karaoke is a must-visit for any karaoke enthusiast. This bustling bar takes the concept of fun and entertainment to new heights.
But it's not just a place for an energetic party scene; it also provides an environment where confidence can bloom, even if you're typically shy when it comes to singing. Walking into Moxie Lounge & Karaoke, you'll immediately notice the vibrant atmosphere that embodies true Los Angeles style.
Features
Plush seating and modern decor make it more than just another karaoke bar. It's a trendy hub for music lovers looking to sing their hearts out in style. The state-of-the-art sound system ensures that everyone sounds like a superstar on the mic.
What distinguishes Moxie from many other karaoke bars is its extensive music selection, catering to diverse tastes across various genres and eras. Whether you're into belting out classic rock anthems or crooning along to contemporary pop hits, there's something for everyone here.
Furthermore, Moxie offers individual private rooms equipped with their own karaoke systems. Catering comfortably to both small parties and larger groups. And if singing isn't your forte?
No worries! You can kick back and relax while cheering on your friends as they take the stage.
In Los Angeles – a city known for its vibrant nightlife. The Moxie Lounge & Karaoke stands out as a top destination for those seeking good times filled with music and camaraderie. It's much more than simply a karaoke venue; it's an experience that encapsulates all that's great about LA's entertainment scene.
What to Expect at the Best Karaoke Bars in Los Angeles
Diving headfirst into the vibrant world of Los Angeles karaoke, you'll find an electrifying fusion of music, fun, and unbridled entertainment. An outing to a karaoke bar in this city is less about having perfect pitch and more about letting loose. Embracing the spotlight, and finding your confidence on stage. The first thing you might notice is the infectious atmosphere. Most patrons are there to have a good time, washing away the stresses of the day with liberating renditions of their favorite songs.
Karaoke bars in Los Angeles are as diverse as its citizens and offer an eclectic mix of entertainment styles. You might find yourself in one that has a laid-back lounge appeal. Where intimate groups gather around a shared microphone, creating their own pocket of fun amidst plush seats and dimmed lights.
Karaoke Scene
Alternatively, you could also walk into one where each daring performer takes center stage under an elaborate light show. In either case, you're sure to experience an evening filled with laughter, camaraderie, and perhaps even some unexpected musical talent.
The music selection at these establishments tends to reflect the cosmopolitan character of Los Angeles. From timeless classics to current chart-toppers across various genres. There's something for every musical palate.
And even if singing isn't your forte. Soaking up this lively ambiance can be a source of relaxation on its own. What to wear during this escapade? Comfort reigns supreme. But don't be afraid to don that flashy ensemble lurking in your wardrobe!
After all, it's part of performance art – make it count! So next time you're looking for a unique way to relax or party in Los Angeles remember. Nothing quite compares to basking in applause after belting out that high note at one of these karaoke bars!
Unique Features of The Best Karaoke Bars in Los Angeles
The karaoke culture in Los Angeles is vibrant, diverse, and as expansive as the city itself. Every karaoke bar is a world in itself. Each boasts its own unique features that set it apart from the rest. One of the most interesting characteristics you'll find is that many establishments don't just focus on singing. They take it a step further by creating an immersive environment that transcends the usual bar vibe.
For instance, some karaoke bars mimic a recording studio experience. Complete with professional sound systems, lighting effects, and even fog machines to make patrons feel like music superstars about to drop their latest hit single. Others focus on creating an intimate atmosphere for those who want to sing their hearts out in privacy rather than belt hits on a stage.
The Experience
They offer personalized rooms themed around different eras or genres of music for groups of friends seeking fun and relaxation. The party scene at these LA bars is not limited to just karaoke enthusiasts either. They create an ultimate entertainment experience by including other activities such as trivia nights, dance-off competitions, or even cosplay events where attendees don extravagant outfits and sing songs related to their costumes—all contributing to the fun.
While most places provide extensive song catalogs covering both mainstream and indie music spanning across decades. Some spots specialize in particular genres like rock, pop or 80s hits catering to specific tastes. Whether you're a confident performer looking to nail Queen's Bohemian Rhapsody before an audience. Or if you are someone who'd prefer crooning Frank Sinatra classics in comfort, there's something for everyone.
Moreover, some bars offer exclusive VIP experiences which include personal servers and customized playlists. A luxury touch added for those special occasions or parties that need a dash of class. Despite all these dazzling features though, at its core each venue retains what makes karaoke so beloved. The opportunity for people from all walks of life to come together in celebration of music giving them an avenue not just for entertainment but also expressing joy, pain or simply letting loose after a long day.
To cap it off with another uniquely LA feature. Due to its sprawling landscape featuring everything from beaches to hillsides. You never know when you might stumble upon one with breathtaking views. Adding yet another layer of charm while you enjoy your night out singing your heart away. Karaoke bars are truly staple establishments within Los Angeles nightlife. They offer memories filled with laughter and harmony wrapped up under one roof.
Final Thoughts on the Best Karaoke Bars in Los Angeles
As we bring our musical exploration of Los Angeles to a close, it's clear that the city offers a diverse and lively karaoke scene. From upscale lounges to hole-in-the-wall bars, each venue provides an unforgettable experience that can cater to every type of party-goer.
Singing karaoke isn't just about entertainment. It's also about building confidence as you step out of your comfort zone, conquer the stage, and belt out your favorite tunes. These fun-filled places give you more than just a chance to sing; they offer relaxation in a vibrant environment where music brings people together.
It's no wonder that people in Los Angeles love their karaoke bars – it's always a party when there's music involved! Whether you're visiting Los Angeles or calling this incredible city home, make time for one of these top-notch karaoke bars. You won't regret it. Now go out there, have fun, and sing your heart out!
---
If you like this information on the Best Karaoke Bars in Los Angeles just save THIS PIN to your Karaoke Pinterest board and check out the info later.
Check out these other Karaoke Bar related posts: