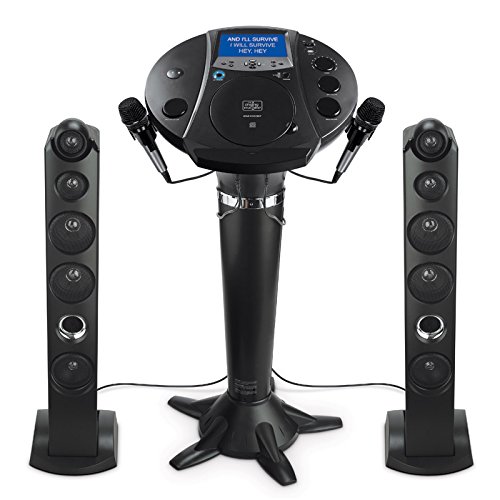 The Singing Machine iSM1030BT is a pedestal home karaoke system that gives off a professional vibe.  With it's good looks and sound it should give you great fun with family and friends.  This Singing Machine karaoke model comes equipped with 2 microphones with cords at around 10 feet long which makes it great for duets.
This home karaoke machine has a 7" LCD display built into the pedestal, so you don't have to use your TV, tablet, or phone to view the lyrics if you don't want to.  Although if you wish you can easily connect this karaoke device to your big screen TV with the provided RCA cables.
Playing music couldn't be much easier as this karaoke machine gives you plenty of options to choose from.  If you prefer CD's it supports formats such as MP3, CD+G, MP3 + Graphics, and regular music cd's as well.  Additionally this device supports bluetooth so you can stream music from any smart device or laptop that also has bluetooth.  With the twin speaker towers this unit will give you good clear sound.  To top it off you can also record your musical performances by inserting a usb thumb drive and using the recording feature on the device.
Good quality sound in combination with sound effects such as digital key, balance, echo and auto voice control you can make your family karaoke night seem much more professional and fun.  Keep reading our review of the Singing Machine iSM1030BT to see if this home karaoke machine might be a fit for you and your family.
Click Here to see current Price of the Singing Machine iSM1030BT Karaoke System
What comes in the Box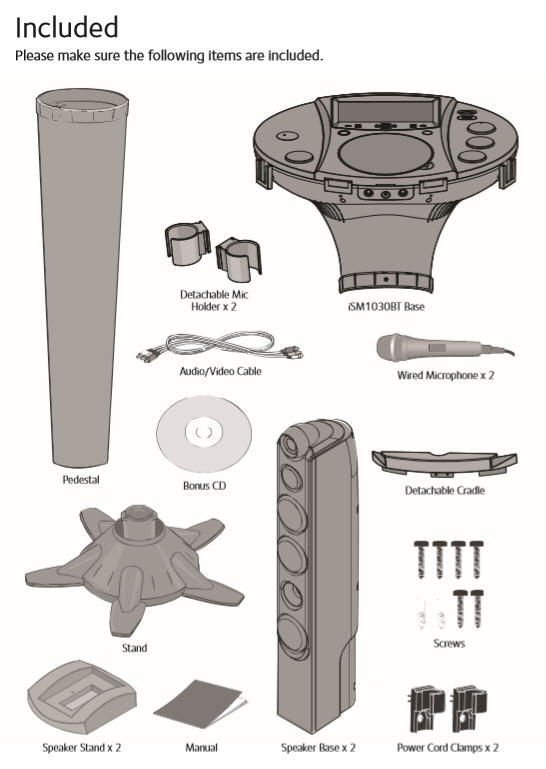 iSM1030BT Base
Pedestal
Detachable Mic Holder x 2
Speaker Base x 2
Speaker Stand x 2
Wired Microphone x 2
Power Cord Clamps x2
Detachable Cradle
Audio/Video Cable
Bonus CD
Screws
Manual
Features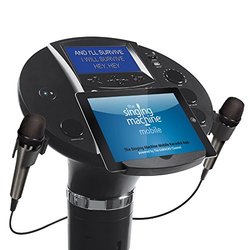 7″ Color TFT LCD Display

Powerful Tower Speakers
Digital Keys: Balance, Echo Controls, Auto Voice Control

Bluetooth Digital Audio Streaming: Compatible with iPad, iPhone, Android devices.
Music Formats:  Play CD + Graphics, Music CDs, MP3 and Introducing MP3 + Graphics
Recording Formats: 

Ripping CD + Graphics disc to MP3 + Graphics with Voice Record

Secured resting cradle for your Bluetooth device:  Secure cradle holds your Bluetooth device in place.
See Lyrics on a big screen:  When playing a CD+G simply connect the ISM1030BT to your big screen TV via the provided RCA cables to read the lyrics on the big screen!
Specifications
AUDIO
Output Power: 7 Watts (RMS)
Output Impedance:  3 Ohms
CD PLAYER
Frequency Response:  100 Hz-20 KHz
Signal to Noise Ratio.:  50 dB
Sampling System:  8 Times Oversampling Disc
Disc Diameter:  4.72" (120 mm)
BLUETOOTH
Bluetooth Version:  V2.0
Working Distance:  Up to 10 meters measured in open space
FM RADIO
Frequency:  88 to 108 MHz
JACKS
Headphone Jack:  3.5 mm Stereo Headphones
Microphone:  6.3mm Microphone Jacks
GENERAL
Power:  AC 110-120 V, 60 Hz
Dimensions – Main Unit:  18.7 x 17.9 x 37.9 inches (47.5 x 45.5 x 96.3 cm)
Dimensions – Tower Speakers:  6.69 x 7.87 x 27.7 inches (17.0 x 20.0 x 70.3 cm)
Weight – Main Unit:  8.4 lbs (3.8 kg)
Weight – Tower Speakers:  4.3 lbs (2.0 kg)
Monitor:  7" Color TFT LCD NTSC
Microphone:  -74 dB 600 Ohms impedance with 6.3 mm Dynamic Microphone
What Consumers Say about the Singing Machine ISM1030BT
The majority of consumers have rated the Singing Machine ISM1030BT home karaoke machine very positively.  Read below for the things consumers say they like the most about this home karaoke machine system.
 The most common compliment for this device is that it is great fun for the family and very easy to use and setup especially if you follow the instructions.
Majority of consumers who have rated this karaoke machine are satisfied with the quality of sound produced by this device.  They say it's clear and the output is plenty for most family rooms.
Has a nice look and fun setup.  A lot of consumers felt it was a good value for the amount of money spent on this home karaoke machine.
The reality is that all Products have issues.  Read below for the most common problems and issues consumers have experienced the Singing Machine ISM1030BT.
 The most common issues consumers stated they had were a defective or bad CD Drive on the machine.  Either the CD player didn't work on arrival or broke fair quickly after use
Some consumers also weren't satisfied with the quality of the sound when singing.  Could possibly be an issue with the quality of the microphones.
Most of the other issues stemmed from the usual defective parts, missing parts, or units arriving DOA.

Click Here to see Current Price and Reviews of the Singing Machine ISM1030BT
PROS
Equipped with a 7 in LCD screen to view lyrics
Good sound from speakers when playing music
Can record singing performances
Has digital keys and can control and balance voice control
CONS
Some quality issues with the CD player
No HDMI connection
No Lights like similar devices in price range
Some assembly required
Overall Impression
In our opinion the Singing Machine iSM1030BT home karaoke machine would make a nice addition to one's family.  With it's professional look and design along with many it's features this karaoke machine can provide hours of fun and entertainment.
Sound quality is decent for karaoke machines in this price range so don't expect anything too outstanding here.  Where this home karaoke machine shines is it's design and many features as mentioned earlier.  This machine comes equipped with 2 microphones, audio recording capabilities, and some audio controls to enhance your performances.  Just going by the looks of this machine you will get people wanting to take it for a spin.  As we stated before in our opinion audio quality is mid-tier and is decent for the price range where this device sits.
If your primary source of music is use of CD's or CD+G's then you may want to look at another device.  Although this karaoke machine can play these types of discs there have been some reported issues with the CD player's quality.  There are other methods to use this device such as bluetooth or AUX connections but some people are used to a certain way or method and if you are one of these people you might want to consider another similar device such as the Akai KS878-BT.
Overall this is a solid device and would make a great choice for your karaoke needs.  Singing Machine has been around for years and is one of the leaders in home karaoke machines so you know this would be a quality decsion.
Sincerely Jiro and Emiko