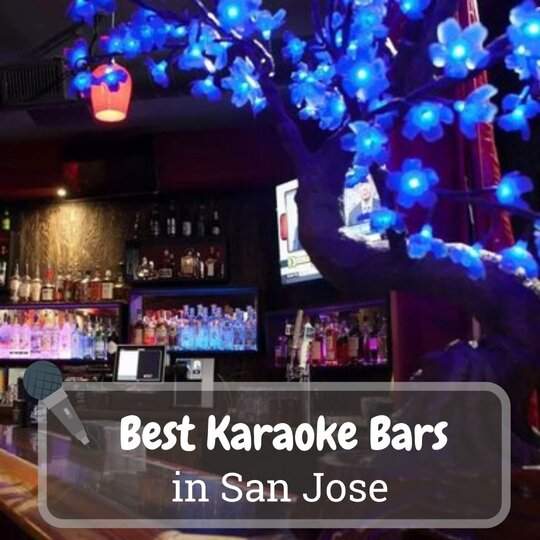 Introduction
If you were to ask me about my favorite way to unwind, I would instantly light up and say, "Karaoke!" There's something incredibly liberating about belting out your favorite tunes, whether you're a seasoned singer or simply a shower serenader. And if you share this passion for music and fun. Then San Jose is the perfect mecca for your karaoke dreams. Apart from being an epicenter of technological innovation. San Jose also boasts a lively nightlife scene that embodies the diverse community. We will walk you through the best karaoke bars in San Jose.
At the heart of it are the city's karaoke bars, where entertainment and relaxation happily coexist. From bachelorette parties to corporate outings. Birthdays to casual hangouts. Karaoke bars in San Jose offer an exciting backdrop against which people come together.
Why Karaoke?
Surely there's something so empowering about standing on a stage (or in a private room) with a mic in hand as your chosen music starts playing. That initial shyness peels away and confidence takes its place as you start singing.
Whether you hit all the right notes or not doesn't matter; what does is that you're having fun! This spirit of unbridled enjoyment is what makes karaoke such an integral part of San Jose's social fabric.
To put it simply: if you're looking for an experience that combines camaraderie and laughter with high notes (and low ones), these popular karaoke bars are worth checking out when visiting San Jose! You might just find yourself singing praises for them too – quite literally!
Karaoke in San Jose: A Popular Past time
Karaoke in San Jose is more than just a popular pastime; it's an integral part of the city's vibrant nightlife. It's a phenomenon that has transcended time and cultures, uniting people through the love of music and camaraderie.
In San Jose, karaoke provides an opportunity for residents to wind down after a long day. Immersing themselves in tunes that range from classic hits to current chart-toppers. What makes karaoke such an appealing activity?
Well, it's an amalgamation of many things. First off, it's about having fun and letting loose.
It doesn't require any specific music knowledge or singing ability—it's all about enthusiasm! It's also a great way to boost your confidence; nothing quite matches the exhilaration of hitting every note in front of an applauding crowd.
But Karaoke isn't just about showcasing your singing talents or lack thereof. It has become a social gathering where friends get together at a local bar for some good banter and a couple of drinks while belting out their favorite songs without judgment or ridicule. Although friendly ribbing is always welcomed!
People come together under one roof with the same purpose. To enjoy themselves and forget about their worries even for just one night. In essence, Karaoke in San Jose embodies entertainment at its finest–promoting relaxation, bolstering confidence, and providing copious amounts of fun.
Regardless if you are holding the microphone or just there for moral support. You're definitely bound to have a party like no other. Whether you're looking to sing your heart out. Or simply want to unwind amidst good company and great music. Karaoke bars in San Jose have got you covered.
The Benefits of Karaoke
There's just something about karaoke that seems to have a captivating charm. It's an entertainment force that beckons people from all walks of life to step up and sing their hearts out. Regardless of their actual singing prowess.
Improve Confidence
The beauty of karaoke is its ability to create an environment where everyone can feel like a superstar. At least until the song ends. But the fun factor is just one facet of this multifaceted pastime.
Karaoke also offers a robust set of benefits that are often overlooked. For starters, it can be an incredible confidence booster.
There's nothing quite like standing up in front of a bar full of people, grabbing the mic, and belting out your favorite tune. It pushes you out of your comfort zone and into a spotlight that challenges your self-assurance.
Therapeutic
Moreover, music has long been recognized for its therapeutic properties. Singing popular tracks encapsulates our emotions in ways mere words often cannot achieve.
Whether you've had a rough day or you're celebrating the weekend with friends. Singing at a karaoke bar provides relaxation through musical catharsis. Let's not forget about the social aspect either.
Brings People Together
Karaoke is synonymous with party and camaraderie. It gives strangers something in common. Breaks down barriers, and encourages friendly interaction in an atmosphere where cheerfulness becomes contagious. Yet importantly, performing at these bars can also improve your music knowledge and appreciation for different genres.
You never know what songs others will pick or what surprising gems you'll discover while browsing through song catalogs yourself! With all these benefits stacked together. It's no wonder that karaoke has become such a beloved activity right here in San Jose.
The Best Karaoke Bars in San Jose
Nestled in the heart of Silicon Valley, San Jose is a city teeming with karaoke bars that cater to everyone. From the seasoned singer to the shy first-timer looking to build their confidence on stage. If you consider yourself a karaoke aficionado. Or if you're just looking for some fun and relaxation after a long week, the city won't disappoint.
Each of these venues brings its own unique flavor to San Jose's vibrant nightlife scene. Making each venue worth exploring whether you are local or visiting this bustling tech-centric city.
7 Bamboo Lounge
Embark with me now on a virtual stroll through the charismatic streets of San Jose. Where we will find ourselves at the doorstep of 7 Bamboo Lounge. This establishment is nothing less than a local legend in the city's bustling karaoke scene.
Atmosphere
The moment you step through its doors, you'll be greeted by an atmosphere of fun and relaxation that only enhances as the evening waxes.
Once inside, you will find an eclectic mix of patrons waiting their turn to conquer the stage. From seasoned veterans belting out classic rock anthems. To spirited rookies mustering up their confidence for a pop ballad. Everyone gets their chance to shine under the glistening disco lights.
The 7 Bamboo Lounge is all about music and entertainment; it's not just your average karaoke bar. In addition to its extensive song library that caters to diverse musical tastes. It also has an impressive collection of spirits and craft beers.
Features
Whether you're singing your heart out on stage or cheering from your barstool, there are plenty of ways to enjoy yourself here. This spot is known for its vibrant party atmosphere that never seems to dull down even on weekdays!
It's definitely one of those places in San Jose where patrons let loose and surrender themselves completely to karaoke. The place simply hums with energy from patrons' cheerful chatter mixing with contagious laughter over failed high notes or praiseworthy performances alike.
So if you're looking for a fun-filled night full of singing escapades. Be sure not to miss out on all that 7 Bamboo Lounge has in store. After all, what better way could there be than karaoke to bring people together and turn an ordinary evening into something extraordinarily memorable?
Red Stag Lounge
In the heart of San Jose, you'll find a karaoke lover's sanctuary in the form of Red Stag Lounge. The beauty of this locale is that it allows you to bring out your inner music star. Regardless if you're a seasoned performer or an amateur who just loves to sing.
Atmosphere
The atmosphere ticks all the boxes; it's lively, inviting and oozes fun from every corner. This gem of a bar is more than just a place for entertainment.
Not only does it offer an impressive selection of ambient lighting to make you feel like an on-stage rockstar. But the sound system and karaoke equipment take your performance to another level. You might enter as an ordinary singer but leave with sky-high confidence, imagining yourself on tour with some chart-topping artist.
Features
The Red Stag Lounge has become synonymous with relaxation and partying in San Jose's nightlife scene. It's not uncommon for patrons to drop in after work and decompress by belting out their favorite hits while sipping cocktails from the extensive menu.
There's always room at Red Stag Lounge for anyone looking to let loose or simply enjoy some melodious tunes. In short, whether you're looking for somewhere to host your next birthday bash. Or just yearning for a night filled with music and fun. Don't hesitate – Red Stag Lounge should be at the top of your list when in San Jose!
Music Tunnel KTV Cafe
If you're looking for a place that boasts a vibrant and chilling atmosphere, the Music Tunnel KTV Cafe is your destination. Located in the heart of San Jose. This entertainment hub is a perfect escape from the daily hustle and bustle, offering relaxation and fun in equal measure.
Atmosphere
The bar simply embodies the spirit of karaoke. As soon as you step inside, you'll be greeted by the buzz of music and laughter that fills every corner.
Lit with multicolored neons, it's like walking into a party that never ends! They have an extensive song list with hits in multiple languages, catering to diverse music tastes.
Features
Whether you're an old-school rock enthusiast or a K-pop fan, they've got your back! What sets Music Tunnel KTV Cafe apart is its private rooms. Here groups can enjoy their own mini karaoke party without any inhibitions.
There's no feeling quite like belting out your favorite tunes surrounded by friends who are having just as much fun as you are! It's not just about singing; it's also about building confidence and creating memories.
Their top-tier sound system ensures that everyone feels like a superstar on stage irrespective of their singing prowess. And if all these reasons aren't enough to convince you to head over there right now, here's another one. Their scrumptious food menu!
From delicious Asian cuisine to comforting American snacks, they offer something for everyone. Simply put: Music Tunnel KTV Cafe doesn't just offer karaoke; it offers an experience – one filled with music, laughter, good food, and overall merriment!
So why wait? Grab your friends and hit this popular San Jose bar for an unforgettable night of singing!
IDOL Karaoke
If you're searching for a truly standout karaoke experience in San Jose, look no further than IDOL Karaoke. This isn't your run-of-the-mill bar where the karaoke machine is dusted off once a week.
Atmosphere
No, at IDOL Karaoke, singing is the heart and soul of their entertainment. As you step inside, the pulsating rhythm of pop tracks mixed with laughter and camaraderie immediately sweeps you up into an atmosphere that's brimming with fun and excitement.
Here in this music-rich environment, everyone from beginners to seasoned veterans grabs a mic with one shared goal – to sing their hearts out. What sets IDOL Karaoke apart from other locales is the unique blend of relaxation and exhilaration it offers its patrons.
Features
The bar showcases comfortable private rooms designed for all party sizes. From intimate duets to larger groups ready to belt out their favorite tunes simultaneously – providing an enjoyable escape from routine. Crucially, karaoke at IDOL isn't just about entertainment; it's also about building confidence.
When those lights dim and your chosen song starts playing, all eyes are on you. But instead of feeling daunting, it's liberating! It's a chance to step out of your shell and own the stage like never before.
Another wonderful aspect of IDOL Karaoke in San Jose is its dedication to creating an immersive party atmosphere for attendees. With an extensive song library covering various genres and periods. Including English, Japanese, and Chinese songs among others. Every night has the potential to become a wildly different but equally memorable musical journey.
IDOL's top-notch sound system ensures that every note sung resonates throughout the room. This keeps everyone entertained, while their well-stocked bar serves up delectable drinks that keep everyone refreshed as they party through the night! So if you're looking for something more than just belting out tunes at your average karaoke bar in San Jose. Then look no further than IDOL Karaoke!
EMA Karaoke & Bar
A stone's throw away from the hustle and bustle of downtown San Jose, EMA Karaoke & Bar is a hidden gem tucked in the heart of the city's vibrant music scene. This bar has become one of the go-to destinations for karaoke enthusiasts. Attracting locals and tourists who want to belt out their favorite tunes. The ambiance is a mix of sleek modernity coupled with an inviting allure that guarantees fun-filled evenings.
Atmosphere
As soon as you step inside, you'll be greeted by a well-stocked bar boasting an array of alcoholic beverages to give your confidence that extra boost you need before taking on the stage. The bartenders are friendly and skilled. They serve up crowd favorites like icy cold beers and creative cocktails alongside hearty shots designed to get your party spirit soaring.
EMA Karaoke & Bar sets itself apart with private rooms available for booking. They offer an intimate setting where groups can sing their hearts out without any inhibitions.
Features
It's not just about singing; it's about having fun with friends in a space where laughter echoes through walls adorned with vibrant music posters. The karaoke system is state-of-the-art and user-friendly. Making song selection a breeze. Even when you're busy deciding between doing an Ariana Grande or Aerosmith rendition.
With thousands of songs in their catalog spanning multiple genres and languages, there's something for everyone here. Now imagine this. You're sipping on your favorite drink. Surrounded by friends as someone belts out a power ballad or an old classic on stage.
There are cheers mixed with laughter echoing around the room as everyone joins in during the chorus. This is a typical night at EMA Karaoke & Bar that embodies what karaoke in San Jose is all about! Relaxing yet exhilarating. It's no wonder that EMA Karaoke & Bar has become synonymous with entertainment in San Jose. It's a place where memories are made note after note.
Pure Karaoke
Tucked away in downtown San Jose, Pure Karaoke is a dazzling star in the city's nightlife constellation. It truly embodies the blend of entertainment and relaxation that karaoke lovers seek. This isn't your typical bar It's a place where ordinary folks can transform into their own version of Mariah Carey or Freddie Mercury for a night.
Atmosphere
Pure Karaoke presents an exuberant party atmosphere where fun is at the top of everyone's list. The modern decor gives the place a stylish edge. But it's the state-of-the-art sound system that gets all the rave reviews.
If you feel like belting out some tunes. You'll love their extensive library of songs across various genres and languages, ensuring every guest can find their rhythm. Now let's talk about one crucial aspect that sets this place apart – private rooms!
Features
Yes, you heard it right. Pure Karaoke offers private rooms for those who prefer to sing among friends rather than putting on a show in front of strangers.
This feature bolsters confidence for those shy singers who need a less intimidating space to unleash their inner pop star. But don't worry if you're here for more than just singing.
Their fully stocked bar ensures your thirst is well catered to. While providing conversation starters with unique cocktails and craft beers. This is definitely an added bonus after hitting those high notes! In short, Pure Karaoke encapsulates everything fun about this unique form of entertainment. It offers excellent music options, a cozy ambiance for relaxation, and plenty of opportunities to party with friends or even make new ones under neon lights.
Kor Karaoke
If you want an intimate karaoke experience in San Jose, give Kor Karaoke a whirl. This spot is the epitome of fun and relaxation rolled into one. By providing private rooms for those who prefer a more personal setting.
Atmosphere
The decor is chic and modern, creating an ambiance that is both cozy and inviting. A perfect locale for a party; it's just the place to belt out your favorite tunes with friends.
Kor Karaoke isn't just about singing; it's about building confidence too. You'll notice that the atmosphere here encourages even the most timid singers to step up to the microphone.
Features
Their extensive selection of music caters to a wide range of tastes, ensuring there's something for everyone. To top it off, this bar's staff are friendly and attentive. Making sure you have everything you need for your karaoke session. From microphones to drinks!
They go above and beyond to make Kor Karaoke one of San Jose's best entertainment spots. In addition to its top-notch karaoke facilities, Kor Karaoke also offers an impressive menu featuring mouth-watering snacks and delightful cocktails.
Nothing complements a night of singing like some tasty treats and refreshing beverages! Overall, Kor Karaoke manages to blend music, fun, and party vibes into one unforgettable experience. Making it another must-visit location in San Jose.
What to Expect at the Best Karaoke Bars in San Jose
As you step into one of San Jose's finest karaoke bars, be ready for an inundation of music and merriment. The typical evening at these establishments is a medley of laughter, camaraderie, and tuneful (or sometimes not so tuneful) singing.
It's understood that karaoke is less about perfect pitch and more about the courage to stand up and belt out your favorite song. Making it a sanctuary for those looking to sharpen their confidence. Catering to diverse crowds, these bars often boast an extensive song library.
From golden oldies to the latest chart-toppers, you'll be spoilt for choice when deciding on your performance piece. Depending on the bar, you might opt for a communal sing-along in a lively atmosphere or seek solace in private rooms where only close friends can bear witness to your vocal acrobatics.
Relaxation and Entertainment
The karaoke bars in San Jose are not just about singing either – they're spaces designed for relaxation and entertainment. To that end, most offer an array of drinks from classic cocktails to locally brewed beers; some even serve up delicious food that ranges from light bites to hearty meals.
Spotlight or no spotlight, there's no denying the thrill that comes from performing in front of others. Whether it's an audience of strangers or friends. And here's where another interesting dynamic comes into play: the energy exchange between the singer and the audience.
The supportive cheers and applause from these warm gatherings can turn any amateur singer into a veritable pop star. Even if just for one night. So if you're up for some all-round fun with music as your backdrop. Perhaps as a means of unwinding after work or simply throwing an unforgettable party. Look no further than this city's delightful karaoke scene. It's vibrant blend of entertainment values makes it one worthy stop in San Jose.
Unique Features of the Best Karaoke Bars in San Jose
One of the most charming aspects of San Jose's karaoke bars is their unique features, which sets them apart and elevate the entertainment experience. Karaoke isn't just about singing your heart out; in San Jose, it's a full-blown party.
7 Bamboo Lounge
From the moment you step foot into 7 Bamboo Lounge, you'll be transported into an atmospheric haven where music is king.
Amidst its inviting Tiki decor and weekend DJ nights, there's an old-school analog system that caters to those who love a touch of nostalgia.
Red Stag Lounge
At Red Stag Lounge, it's all about creating an environment for relaxation and fun.
The bar boasts a well-stocked selection of craft beers and cocktails to ease those pre-performance jitters. And with their special 'Happy Hour' deals, your night of karaoke won't put too much pressure on your wallet.
They possess a vast selection of songs crossing multiple genres and decades, ensuring every singer finds their perfect tune.
Music Tunnel KTV Cafe
Moving on to Music Tunnel KTV Cafe – as its name suggests, it offers more than just karaoke.
A delightful blend of cafe and music venue creates a laid-back atmosphere for daytime singing escapades or late-night vocal shenanigans.
IDOL Karaoke
IDOL Karaoke raises the bar with private rooms offering state-of-the-art sound systems for those intimate gatherings or exclusive parties.
It also offers multi-language song options – touching diverse demographics and proving that music truly knows no borders.
EMA Karaoke & Bar
EMA Karaoke & Bar brings out a level of sophistication in its offerings leavened by leisurely fun —enjoy their plush leather seating while sipping champagne before taking over the stage under a dazzling disco ball.
Pure Karaoke
Pure Karaoke has adopted a unique approach—bottle service! Who would've thought you could enjoy an upscale club-like experience while belting out your favorite tunes?
Kor Karaoke
Kor Karaoke's uniqueness lies in its family-friendliness-it hosts afternoon sessions targeted at families looking to bond over music—an eclectic blend fostering confidence among young singers set within an ambiance teeming with fun and enjoyment.
Karaoke Culture
These distinct characteristics embedded within each karaoke bar guarantee that every trip becomes not just about singing but also reveling in San Jose's vibrant culture- each location offering individualistic experiences but all uniting under one theme—a celebration of music!
Final Thoughts on the Best Karaoke Bars in San Jose
In the end, it all boils down to the unique experience and shared moments that these karaoke bars in San Jose offer. The chance to belt out your favorite songs with friends or even strangers does more than just provide a fun night out. It can help increase confidence too. There's something liberating about standing up on a stage, grabbing that microphone, and pouring your heart into a well-chosen tune.
It's not just about singing; it's about the camaraderie, the shared laughter, and even the occasional collective groan when someone terribly butchers a beloved classic. These are moments that make for unforgettable memories and stories you'll laugh at for years to come.
Karaoke Bars
Each bar has its unique spin on karaoke nights. From 7 Bamboo Lounge's laid-back environment to EMA Karaoke & Bar's private rooms are ideal for intimate gatherings. There's something for everyone in San Jose.
The city of San Jose offers a vibrant backdrop of entertainment options for those who love music. From live band performances to open mic nights.
Amidst this rich tapestry of musical offerings stands the distinctively joyful culture of karaoke where relaxation meets exhilaration. So don't shy away from exploring these bars' unique quirks and features because they add spice to each visit. Much like how every performer adds their distinctive flavor when they sing their favorite song at karaoke nights.
It is this diversity and uniqueness in experiences that make San Jose an excellent place for karaoke aficionados looking for their next go-to hangout spot. Whether you're an aspiring singer dreaming of performing before an audience or someone seeking a fun activity over drinks with friends. These best karaoke bars in San Jose deliver on all fronts. Great music choices, welcoming environments, top-notch sound systems, and quality food, and drink options. And most importantly—a promise of good times filled with laughter, music, and memorable performances.
---
If you like this information on the Best Karaoke Bars in San Jose just save THIS PIN to your Karaoke Pinterest board and check out the info later.
Check out these other Karaoke Bar related posts: