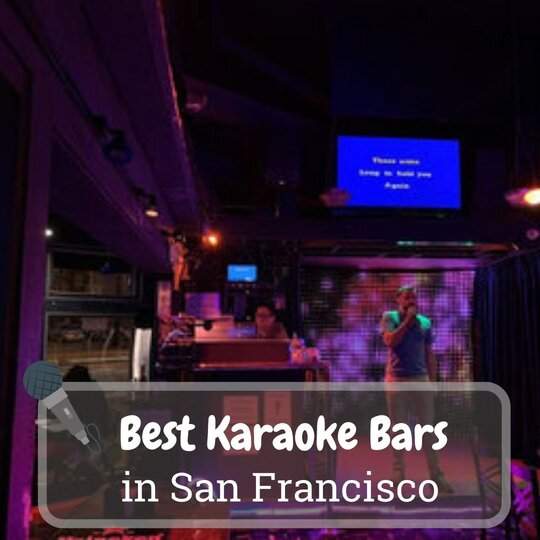 Introduction
From the foggy shorelines of the Bay Area to its eclectic and vibrant neighborhoods, San Francisco is a city bursting with character and charm. As night descends, the city truly comes alive, offering numerous forms of entertainment. Among these, a unique tradition has found its niche in the heart of many San Franciscans – Karaoke. But in a city so large what are the best karaoke bars in San Francisco?
Karaoke, originating from Japan and meaning 'empty orchestra', is more than just singing your heart out. It's about having fun, letting loose, and even building confidence.
In karaoke bars across San Francisco, people from all walks of life gather to not only enjoy music but also to share their love for singing. Whether you are relaxing after a busy work week or throwing a party for friends. Karaoke bars provide the perfect setting for an evening filled with laughter and joy.
With a microphone in hand and your favorite song playing on the screen before you. Karaoke transforms every patron into an adored star for those few precious minutes. But beyond that ephemeral fame on stage lies another benefit that often goes unnoticed – relaxation.
Some people unwind by meditating or reading a book at home. Others find solace in belting out tunes at their favorite karaoke bar. In San Francisco particularly, this fun pastime thrives against the city's energetic backdrop. Everyone has an opportunity to sing along to their favorite tracks in front of enthusiastic audience members. Or even simply enjoy good music while sipping cocktails at one of these watering holes.
Karaoke in San Francisco: A Popular Pastime
San Francisco, with its dazzling lights and vibrant social scene, is a city that truly comes alive at night. Karaoke, in particular, has established itself as a favorite pastime among the locals. Whether it's for relaxation after a long day or a lively party with friends on Friday nights. Karaoke bars offer the perfect setting to unwind and have fun.
The city's love for this form of entertainment is evident in its numerous karaoke bars. Each karaoke bar offers unique experiences and boasts dedicated patrons. The bar scene in San Francisco caters to all types of people and preferences. There are sports bars for football enthusiasts, wine bars for the sophisticates, dive bars for those seeking solace in solitude, and then there are karaoke bars.
And while some might say that bravery comes from within (and perhaps aided by liquid courage). Others believe that karaoke is an art form where anyone can partake without judgment. So whether you fancy yourself as the next Mariah Carey or simply enjoy belting out your favorite classic rock songs off-key without judgment. San Francisco's karaoke scene has got you covered!
The Benefits of Karaoke
Karaoke, believe it or not, provides a whole slew of benefits beyond just being a fun party activity. Let's turn the spotlight onto these unsung merits.
Stress Relief
First off, singing your heart out at a karaoke bar can be an amazing stress reliever. After grinding through a long week in bustling San Francisco, what could be better than letting loose and belting out your favorite tunes? It's a form of relaxation that merges music and entertainment into one delightful package.
Boost Confidence
Aside from providing an escape from the daily grind, karaoke has also been known to boost self-confidence. When you step on that stage and sing to an audience, no matter how large or small. You're stepping outside your comfort zone.
You're exposed yet empowered. The applause and cheers at the end of your song can be exhilarating and can instill confidence that extends beyond the karaoke bar.
Promotes Camaraderie
But let's not forget—an evening of karaoke is often about more than just the singing; it's about camaraderie too. It's about sharing laughter over missed high notes or surprise duets sprung on unsuspecting friends.
Whether you're belting out old classics or trying to keep up with today's hits. It all fosters a sense of fun and unity amongst friends new and old. As much as we go for the music, equally, we go for the bubbles. Either in our champagne glasses. Or those welling up from laughter at our attempts to mimic Mariah Carey's whistle notes or Freddie Mercury's vocal acrobatics!
Karaoke bars in San Francisco are often filled with such mirthful moments—providing endless entertainment while creating lasting memories. So next time you think about grabbing that mic at your local karaoke bar in San Francisco. Or anywhere else for that matter—remember: not only are you signing up for an evening full of music-driven fun but also boosting confidence, promoting relaxation, and enhancing social bonds. All while adding another unforgettable chapter to your own unique storybook of life.
The Best Karaoke Bars in San Francisco
As the city that never sleeps, it's no surprise that San Francisco is home to a myriad of karaoke bars where you can let your hair down and sing your heart out.
Each one of the following bars beats the heart of San Francisco: vibrant, welcoming, and filled with endless possibilities. The following places are where unforgettable evenings are born amongst stories narrated through song.
The Mint
Nestled in the heart of San Francisco, The Mint is more than just a bar—it's an experience. This iconic establishment has been providing entertainment to both locals and tourists alike since 1993. It's renowned as the city's premier karaoke destination.
Atmosphere
With its vibrant ambiance and expansive song library, this spot ticks all the boxes for a night brimming with fun and music. The moment you step into The Mint, you immediately experience an atmosphere of relaxation and camaraderie.
It's not your run-of-the-mill karaoke bar. It's a place where veteran performers rub shoulders with first-timers mustering up the confidence to sing their favorite tunes. But worry not—here at The Mint, it's as much about enjoying as it is about hitting those high notes.
One of the captivating highlights of The Mint is its democratic rotation system. Everyone gets their fair turn to belt out a song regardless of whether they are regulars or stepping foot into the bar for the first time.
Features
This system intertwines with the spirit of San Francisco itself—diverse, inclusive, and full of life. As expected from such a revered place, parties are quite commonplace here.
Be it birthdays or corporate events; this hotspot promises an unforgettable night filled with laughter, music, and above all else—karaoke! So when in San Francisco don't miss out on visiting The Mint for an electrifying escape from everyday life. Transport yourself into a world dominated by tunes that get your feet tapping and spirits soaring.
Playground
Tucked away in Japantown San Francisco is a gem known as Playground. This karaoke bar might be small, but it more than makes up for its size with its vibrant atmosphere and impressive song catalog.
Atmosphere
Stepping into the dimly lit room, one can immediately sense the heart of karaoke. It has music, laughter, and an underlying current of daring enthusiasm. The playground offers individual private rooms where friends can come together for a party or after-work relaxation.
These intimate spaces create a safe haven. Where even the most shy individuals can step out of their comfort zones and belt out their favorite tunes. These secluded karaoke booths can hold anywhere between six and 50 people
Features
A visit to this fun bar isn't complete without trying out its unique cocktails. Patrons sip on cocktails spiked with lychee, aloe, and cucumber. They also share soulful dishes like crispy Korean fried chicken, kimchi-laced soups, and steamed pork dumplings. Adding an extra touch of thematic charm to the entire Playground experience.
As with any great San Francisco establishment, Playground raises the bar both in entertaining its guests and providing them with opportunities to boost their confidence through singing. It's a place where inhibitions are left at the door and everyone gets a chance on center stage. Whether it's singing an all-time favorite hit or trying out a new song.
The enthusiastic staff members are always ready to guide newcomers through this musical journey. They're not only there to serve drinks but also provide support for those who need that little push before grabbing that microphone.
With every note sung at Playground, you'll be creating unforgettable memories filled with laughter, music, and maybe even some surprising vocal discoveries! It truly captures what karaoke in San Francisco is all about having fun through music.
The Redwood Room
Situated in the heart of San Francisco, The Redwood Room is more than just a karaoke bar. It's an institution, a place of camaraderie and relaxation as patrons try their hand at belting out tunes. The Redwood Room is famous for its intimate and enchanting ambiance. This karaoke bar gives you the freedom to sing your heart out irrespective of your proficiency level.
Atmosphere
The truth is, the pressure often associated with karaoke disappears the moment you step into The Redwood Room. From the welcoming staff to its relaxed atmosphere, it's designed to put you at ease and boost your confidence.
You don't have to be a nightingale or crooner; all that's required are enthusiasts ready for fun-filled memories. The music selection is vast and eclectic, offering something for everyone.
Whether it's pop or rock, country or R&B, they've got it covered. The sound system is top-notch too!
So even if your voice wavers a bit off-key occasionally – no worries! The quality audio will make sure you sound great on stage.
On any given night at The Redwood Room, expect to find a myriad of individuals from around San Francisco coming together in this shared love for music and entertainment. There's an undeniable sense of unity as people cheer each other on while performing their favorite songs.
Features
Planning a party? This bar can deliver some memorable moments.
It offers private areas where you can host your own mini karaoke party with friends or colleagues after work hours. This is a fantastic way to let loose and enjoy some great company! For those seeking fun coupled with relaxation amidst their busy city lives in San Francisco. The Redwood Room certainly hits all the right notes when it comes to an excellent Karaoke experience.
The Palace Karaoke
Stepping into The Palace Karaoke is like being transported to a different world. Nestled in the heart of San Francisco, this karaoke bar is a gem that perfectly combines modern ambiance with traditional Korean-style party spirit.
Atmosphere
Imagine a place where the music is always pumping, and the energy is contagious. That's what you get at The Palace. This party hub isn't just about belting out your favorite tunes; it's about creating memories through entertainment and music.
Here, rookie singers can gain confidence on stage. While seasoned crooners can keep their vocal cords warm with an ever-updating list of popular songs across all genres. The magic of The Palace Karaoke starts as soon as you walk through their doors. This is an environment made for relaxation and fun. Where dimmed lighting dances off mirrored walls to create an enchanting atmosphere.
It's a perfect place for everyone regardless of singing ability. From those who sing only in showers to those born for center stage. True to its name, The Palace provides royal treatment with private rooms equipped with top-notch audio systems. This ensures your voice shines through no matter whether you're belting out power ballads or rapping to hip-hop beats.
Features
A bar stocked with a wide selection of beverages adds to the experience. Making sure that even if you have stage fright, there might be liquid courage available. The Palace Karaoke in San Francisco captures everything we love about these establishments. The camaraderie built over shared activities, spontaneous fun moments fueled by music & laughter, and above all an entertaining way to unwind after a long day.
K-BOX Karaoke
Nestled in the heart of the city, you'll find K-BOX Karaoke, a gem amongst San Francisco's karaoke bars. Frequented by both locals and tourists alike, it's a hotspot for music lovers looking to let loose and have fun.
Atmosphere
Its modern environment and state-of-the-art sound system allow guests to experience singing in a whole new light. The bar features an extensive songbook that spans various genres to meet different music tastes.
It's not just a place to sing; it's an entertainment hub where each night is a party. isn't just about belting out your favorite songs though. It's also about building confidence.
It might be nerve-wracking to take the stage initially, but the warm, welcoming atmosphere of this bar will ease your stage fright in no time. The enthusiastic crowd encourages every performer, making you feel like a superstar for those few minutes on stage.
Features
The K-BOX Karaoke offers more than just singing – it promises relaxation as well. After singing your heart out or cheering on others from the audience. You can unwind in their comfortable lounge area with their signature cocktails or craft beers.
In terms of karaoke bars in San Francisco or even beyond that – this place definitely sets the bar high! So next time when you're planning to hit the town or throw an unforgettable party, remember. There's no wave-like K-BOX Karaoke!
What to Expect at a Karaoke Bar in San Francisco
Walking into a San Francisco karaoke bar is like stepping into a universe solely dedicated to music, fun, and unadulterated entertainment. The moment you step through the door, the energy hits you like a rush of exuberance.
Laughter echoes through the air mingling with snatches of song and lively chatter. Karaoke in San Francisco isn't just about singing; it's about expressing yourself and letting your hair down after a long week.
It's about walking up to that stage with confidence, grabbing that microphone, and becoming the star of your own show even for just one night. You don't need to have an angelic voice to sing karaoke in San Francisco – all you need is the guts to get up on that stage and belt out your heart.
Common Features
The bars are designed for relaxation and comfort. With plush sofas for lounging on between songs. And intimate booths perfect for sharing some drinks with friends while waiting your turn. But it's not just all singing; there's often more going on at these karaoke spots.
Don't be surprised to find hilarious costume contests or trivia nights happening besides regular karaoke sessions. As expected from any party hotspot in San Francisco, the drink offerings are top-notch too.
Whether you prefer sipping on classic cocktails or trying out local craft beers while waiting for your turn at the mic, these bars have got you covered. Summing it all up. Expect an unforgettable night filled with laughter, singing, and camaraderie. As well as fantastic food and drinks when visiting a karaoke bar in San Francisco!
Unique Features of Karaoke Bars in San Francisco
San Francisco's karaoke bars have a few unique features that are worth mentioning. Many of them are set in historical buildings. Reflecting the city's rich past and adding a touch of charm to your night out. So, when you walk in for an evening of fun and music, you're not just walking into any bar. You're stepping into a piece of San Francisco's history.
Karaoke in this city is never just about singing—it's about the whole experience. Take The Mint, for instance – it boasts an old-fashioned theatre atmosphere with a stage backed by red velvet curtains.
There's even professional stage lighting that adds an authentic touch to your performance and ramps up the entertainment factor several notches. Then there are places like The Redwood Room which redefine relaxation with their ambient lighting and cozy booths.
They offer private rooms too, so if you're shy or prefer to sing just amongst friends, they've got you covered! Karaoke isn't just about providing entertainment here; it's about creating a space where people can let loose and gain confidence as they belt out their favorite tunes.
Interesting Features
An interesting feature at many karaoke bars in San Francisco is the multi-language song selection available. Reflecting the city's cultural diversity, these places cater to more than English-speaking patrons; they often carry songs in many different languages from all around the world.
Another unique factor is the time these establishments close. Unlike many cities where bars shut down around 2 am. Some karaoke bars in San Francisco keep their doors open until dawn!
So whether you're an early bird or a night owl looking for some after-party singing action. There's always somewhere to go! In essence, karaoke bars in San Francisco aren't just places where people go to sing. They're also hubs of enjoyment that encapsulate everything that makes this city special. Its diversity, its love for music, and its carefree spirit.
Conclusion
As our melodious journey through the karaoke bars of San Francisco draws to a close. It's hard not to be struck by the rich tapestry of fun, music, and camaraderie that these establishments weave into the city's nightlife. These cherished venues offer more than just a stage for your renditions of classic hits or current chart-toppers. They are hubs for entertainment and relaxation, sacred spaces where you can shed your inhibitions and sing your heart out.
Karaoke is more than an act; it's a celebration of music and confidence wrapped up in one joyful package. The sense of community embraced by these bars is palpable – here in San Francisco, everyone feels welcome to grab the mic or take up that tambourine.
The beauty lies not in perfect pitch but in passion and participation. Because when it comes down to it, karaoke isn't about performance but about letting loose and having fun. So whether you're a karaoke aficionado seeking a new haunt or an adventurous soul bracing yourself for that first exhilarating step onto the stage. San Francisco has got you covered with its impressive array of karaoke bars.
Each offers its unique ambiance but guarantees an unforgettable night full of singing, laughter, and entertainment. Proof that indeed life is better when you're singing along. Stepping into these vibrant sanctums of song is like joining a spontaneous party where everyone's invited; so why wait?
There's joyous cacophony waiting behind those bar doors – all you have to do is walk through them. After all, every song needs an audience!
---
If you like this information on the Best Karaoke Bars in San Francisco just save THIS PIN to your Karaoke Pinterest board and check out the info later.
Check out these other Karaoke Bar related posts: