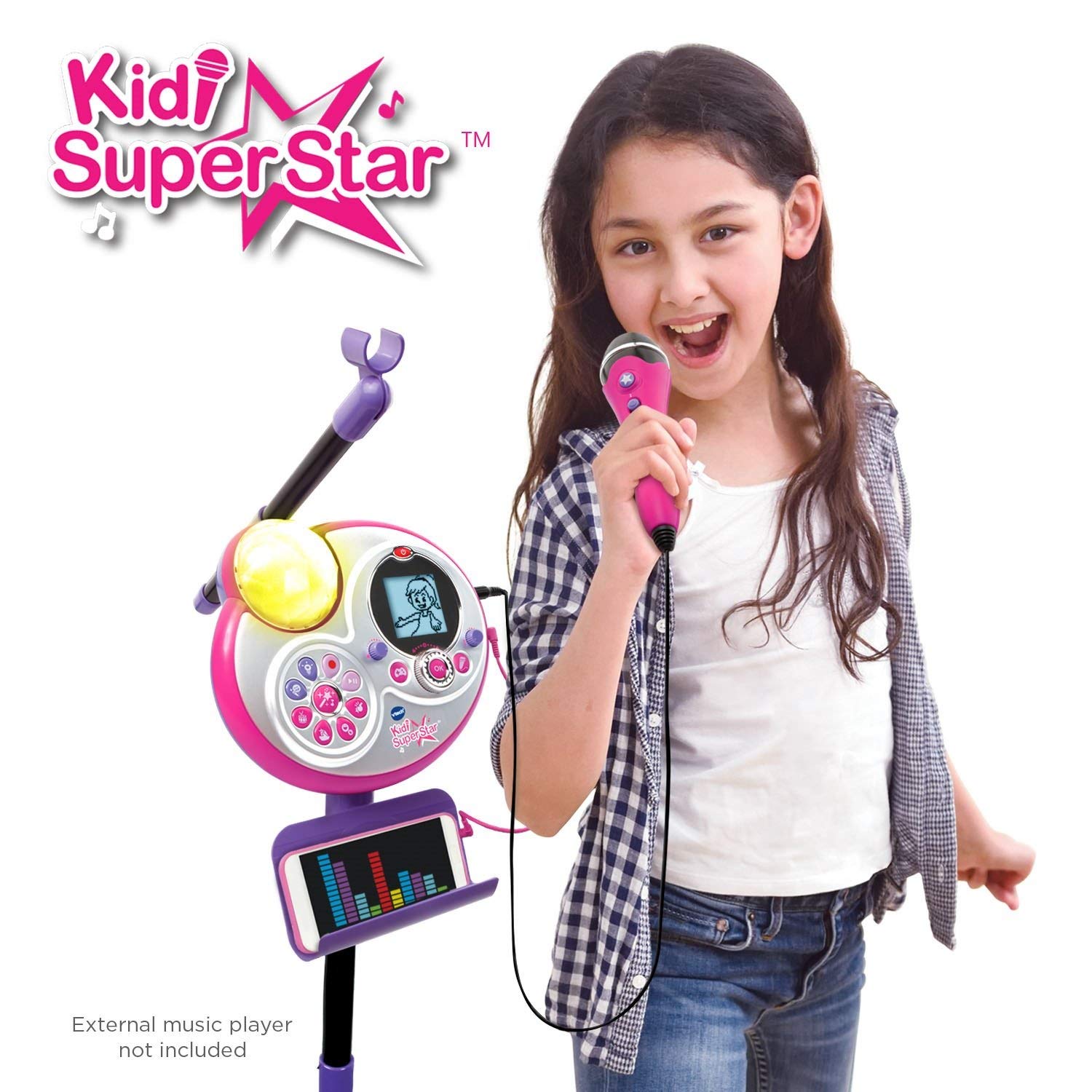 The VTech Kidi Super Star gives children who love music a device to sing and perform.  They can even record their performances using just their voice, with included sound and voice effects, and with music from smart device.
This toy only comes in bright pink and purple color which could be an issues for some boys but the majority of consumers said their boys had great fun with this device.
The karaoke machine also comes equipped with an adjustable plastic Microphone stand which is easy to put together.  The stand can be a bit tall for some kids but it seems most kids prefer to carry the device rather then use it in the stand.
When we researched for the best children's karaoke machine online, the VTech Kidi Super Star caught our eye.  With it's amazing features and competitive price we just had to review this product for you.  It did win 2016 Toy of the Year in the Musical Toy category in France.  So you can add award winning toy to list of reasons this toy is a great gift for children.
Click Here for current VTech Kidi Super Star Price
What comes in the Box
 VTech® Kidi Star Karaoke Machine
 One microphone
 3.5mm jack audio cable
 Parent's guide
 Four AA batteries for demo purpose only
 Set of stand components – Stand components include three poles to adjust height.
Features
See the VTech Kidi Super Star in action and to learn more about it's features see the embedded video below….
 Includes 8 built-in songs with animations
 Disco light effects – Adjustable disco light can rotate 180 degrees and choose from 7 disco light effects.

 Works with Your MP3 Player

 Applause and cheering sounds
 4 funny vocal effects that change the sound of your voice
 Built-in recorder that records up to 5 minutes
 Includes 6 music, rhythm, and memory games
 Can be detached on table top that allows you to sing along wherever you want!
Port Connections:
– 3.5mm Microphone-In Jack
– DC 7.5V 400mA AC/DC Jack with 5.5mm Connector
– 3.5mm Audio-In Jack
What Consumers Say
The majority of consumers have rated the VTech Kidi Super Star positively.  Read below for the things consumers consistently say they love about this children's karaoke machine:
 Kids overall love this machine and have great fun playing with it
 Consumers like that this unit is light and portable
 Sound and Voice effects keep children occupied for hours
 Built-in recorder allows kids to have tons of fun recording their performances and then playing them back with the voice and sound effects     or their favorite song.
As there are no perfect products there are some things consumers complained about or had issues with.  Read below for the most common complaints and issues consumers had.
 The biggest issue we saw was that some consumers had issues with the microphone not working after awhile.  Since the majority of consumers were ok this could be just a warehouse and shipping issue.
The most common complaint was ones voice is hard to hear once a smart device is plugged in and playing music
Another common complaint is that the screen on the karaoke machine is out of date as it displays only black and white characters which are quite blocky.
Click Here For Current Price and Current Reviews
PROS
Great fun for kids
Very portable and light
Disco lights with 7 light effects
Built-in recorder to play back performances
Adjustable MIC stand
2016 Best musical winner in France
CONS
 Only comes in one color – could have made more color neutral
 Screen displays out of date graphics
 Can accommodate only one microphone
 Some microphone quality issues
Overall Impression
The VTech Kidi Super Star is a solid choice if you are looking for children's karaoke machine that is dedicated for kids.  So if you are looking for a karaoke system for the family I would suggest looking at a little higher end model.  As consumers have said kids love this system and have loads of fun playing with this unique toy.
This karaoke machine is very popular in Europe.  It won 2016 Toy of the Year in the Musical Toy category in France.  Also was elected as Christmas Gift Guide 2016: Top Ten Gifts in United Kingdom.  It is a recent addition to the United States market but so far the reviews have been stellar.
Some considerations I would take into mind before purchasing this unit is can you live with only one microphone.  This could cause some grief if many kids are trying to use this toy at the same time.  A very similar product that comes equipped with two microphones and many of the same features is the Little Pretender Karaoke Machine.  Another consideration is sound quality.  Keep in mind this is a toy and for kids so I feel sound quality shouldn't be the deciding factor.  If it was this machine would cost double or even triple what it is currently.
Overall we feel this would make a perfect Christmas or birthday gift for kids who love music and performing.  Price is not overly expensive and this kids karaoke machine has lots of fun features kids will enjoy for hours at a time.